Hip Hop Awards '20: Best Acceptance Speeches Of The 2019 BET Hip Hop Awards
Meg's genuine surprise, DaBaby's momma and more memorable moments.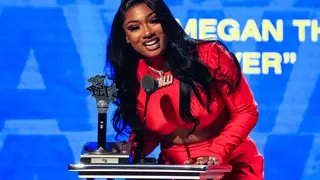 A good acceptance speech will earn a round of claps at an award show, but a great acceptance speech can outlast even the work of art it was written to celebrate. That's something that the BET Hip Hop Awards is famous for — ever since 2006, artists that are passionate about the music and culture of the leading genre of music in the world spill their hearts on stage as they let the world know who they have to thank for the award, what their fanbase means to them, and how their contribution to the hip-hop movement has changed their life. These speeches add more color to an already rich culture and have become standout moments of the show that are just as memorable as the explosive performances that happen on stage.
Last year's award show was packed with these kinds of sincere moments and unrehearsed instances where emotions came from unexpected places. Ahead of the 2020 BET Hip Hop Awards that kick off on Oct 27, BET has recapped four of the best acceptance speeches from last year's show. These moments will make you even more excited to see who opens up for their fanbase this year.
Check out the list below.
Lil Kim thanks family, fans, and Biggie's spirit

Lil Kim won the I Am Hip Hop Award for her outstanding contributions to rap music for the last five years and in her emotional acceptance speech, she thanked her fans, her daughter for her love and support, and also the spirit of the Notorious B.I.G. who she calls her angel, looking down on her. "I love you to the Heavens, Biggie," she said, near tears.  

DaBaby brings his mother on stage

Last year's ceremony was huge for DaBaby because not only did he perform multiple songs, he also won the trophy for Best New Artist. In an awesome move that made everyone smile, he brought his mother on stage with him as he accepted the award. And in an even cooler move, he gave her a nod in his speech. "God is great," he said. "Shoutout to everyone on my team and shoutout to my beautiful mama."

Sarkodie thanks Akon for his movement

Ghana's Sarkodie kept it real with his to-the-point acceptance speech for the Best International Award. He started off by calling the audience beautiful people and then dedicating the award to his daughter that he loves very much. After that though, he thanked Akon for everything that he's done for Africa as a whole. "Akon saw the dream," he said. "I encourage each of you to take a trip to Africa and come have fun. If you come, choose Ghana. You know what time it is."
 

Megan Thee Stallion's surprised acceptance

Megan Thee Stallion completely took over 2019 with her infectious summer anthem "Hot Girl Summer." So when she won the Best Mixtape award for Fever, it felt earned — but Megan herself didn't immediately think so. Her surprise made her acceptance feel all the more genuine and deserving. Her first word when she gripped the award was "What!" as she looked around incredulously. Finding her composure, she gave a quick speech about her victory, relating it to her fans power. "We drove the boat all summer and now we've won an award," she said. "Houston, we in this bitch!"