Happy Bey Day: 40 Reasons Why Beyoncé Turning 40 Is An Entire Mood
The life of the marvelous Mrs. Carter is only getting better with time.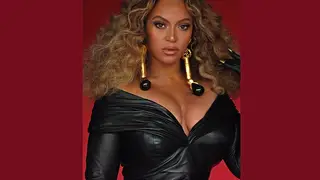 Every year we celebrate various holidays and events, but to the ultimate fan - there is only one day that truly matters in the year. That day being September 4, 1981 otherwise known as the day that God blessed our eternal being by giving us the life and the legend that is Beyoncé. Giselle. Knowles. Carter.
While most in the Bey-hive may refer to her as Queen Bey, however you say her name - the one thing that is for certain is that the 'B' in her name stands for "Boss."  From international superstar and mother of three, to mogul, activist and philanthropist, Beyoncé continues to remind us that Black is not only king, but her talent and insight are in fact universal.
There is a lot of buzz around what might be next on her bucket list towards world domination (remember her Instagram only gets active when she's about to sting) and BET.com is keeping a close eye. In the meantime, here's a chance to shine a light and a halo, halo, halo in celebration of her 40th birthday with 40 amazing reasons why Beyoncé has solidified herself as the most powerful Black woman in entertainment today.
RELATED: Iconic! Take A Look At Beyoncé' Most Glamorous Style Moments In Honor Of Her 40th Birthday


Even as a kid she was a boss. At the age of 7, she competed against a group twice her age and won.


She was the glue to one of the most successful female groups of all time, Destiny's Child


Her solo career is unmatched - she has been nominated for 70 Grammy Awards, winning 28 of them and nominated for 66 BET Awards (58 solo and 8 with Destiny's Child), taking home 31 BET trophies which makes her a true MVP.


She is the most awarded woman in Grammy history. Talk about being independent.


She is the second most awarded recording artist of all time. Read that again. OF ALL TIME.


She's sold over 100 million records worldwide and we wouldn't even be surprised if people in another galaxy know the name Beyoncé.


She's number #72 on the Forbes list for "The World's Most Powerful Women".


She has 9 (count them...I'll wait) #1 singles on the Billboard chart.


Beyoncé is the creator of the "Uh-Oh" dance. Tell me you aren't thinking about doing it the minute "Crazy in Love" comes on.


Speaking of "Crazy in Love," she wrote the song in under two hours. Record execs said the album wouldn't have one hit. They were right - it had five.


She is the only female artist to have all six of her studio albums debut at #1.


In 2009, The Observer called her the "Artist of the Decade" and Billboard named her "Top Female Artist" and "Top Radio Songs Artist of the Decade."


The Recording Industry Association of America (RIAA) listed Ms. Carter as the top certified artist of the 2000's with a total of six certifications.


 Showcasing the power of family, she rallied with sister, Solange and stood by their mother, helping her find peace and healing after divorce.


In 2011, she was the first person EVER to receive the Billboard Millennium Award.


With 13 Billboard Music Awards, she is the eighth most awarded artist in Billboard  history.


Beyoncé performed at both of President Barack Obama's inauguration events.


She is the first solo artist to have six consecutive hits on the Billboard 200 chart.


In 2011, she released the album "4" on her own label, Parkwood, as a way to have even more creative and executive control of her career. Bawse moves.


In 2011, she was the first solo female to headline Glastonbury in over 20 years. You hear that? That's the sound of herstory.


The time when she surprised the world with her announcement of her pregnancy with Blue Ivy Carter at the MTV Music Video Awards and did it all on her terms and in her own way. 


Then at just two days old, Blue Ivy decided to follow in her mama's footsteps and stunt on us by being the youngest person to ever appear on the Billboard 100. Her cries were credited at the end of the track, "Glory".


That one time she brought new flavor to the Super Bowl XLVII halftime show and used the opportunity to celebrate her girls, reuniting with Kelly Rowland and Michelle Williams.  


That time she dropped the "Beyoncé " album without any warning and spawned more tweets than an angry "Karen" caught on video. It got over 1.2 million tweets in under 12 hours.


When her self-titled album became the fastest-selling album of all time on iTunes.


Let's also get into the first verse of "Partition," which is said to have been written off the cuff and recorded in just one take. Call her an ocean because she never misses a flow.


She is the Queen B of philanthropy - from paying bonds to get folks out of jail after protests to helping Houston after Hurricane Harvey, Beyoncé once donated her whole salary from a film to Phoenix House, a drug treatment center.


Don't forget the time that she broke another record with her surprise halftime performance at Super Bowl 50 in 2016, added new meaning to the word, "formation" and dropped her visual album, "Lemonade", which charted 12 songs at once on the Billboard Hot 100.


She's also the first artist to be nominated across four different genre categories at the Grammys in the same year. She even had them country singers shaking in their boots.


She's got an eye for the big screen as well, using her genius to create four films: "Life is But a Dream" (2013), "Lemonade" (2016), "Homecoming" (2019) and "Black is King" (2020).


In 2017, her surprise pregnancy announcement broke an Instagram record with more engagement than any other photo garnering 6.3 million likes and 334,000 comments. Once twins, Sir and Rumi Carter were about a month old, she went to Instagram again posing in front of an elaborate flower arrangement to introduce them to the world. That photo received more than 6.6 million likes by 10:00a.m. of the morning it dropped.


 It's one thing to have fans celebrate the day of your birth, but you know you're a worldwide star when the First Lady of the United States pays homage to you on your 36th birthday by dressing up in your likeness. Including Michelle Obama, 17 of Beyoncé's closest friends recreated her look from the "Formation" video in a photo shoot posted to her website.


In 2018, she was the first Black woman to headline Coachella (giving the world another Destiny's Child reunion!) and offered an iconic 27-song performance.


She opened the door for a young creative, Tyler Mitchell, who in 2018, became the first Black photographer to shoot for Vogue's September magazine cover. Can you spell ICON? 


Let's not forget about the time she linked up with Adidas and dropped Ivy Park and made sure that all genders and sizes were included.


That time in 2019 when she made every queer person cry by acknowledging the community saying, "I love you" after receiving the GLAAD Vanguard Award at the 30th Annual GLAAD Media Awards. 


 Beyoncé  and Jay-Z surprised us all (again) and dropped the album, "Everything is Love" - and if that wasn't enough of a game changer, we found out that she shut down the Louvre Museum in Paris to film the "Apeshit" video.


That moment in the summer of 2020 when she thought about our mental and physical wellness by linking up with Peloton (giving us that extra encouragement during our morning rides) and gifted HBCU students a two-year digital membership to celebrate and uplift Black students' wellness at various Black institutions. Let's not also forget the HBCU scholarships she gave to help Black students achieve their collegiate dreams.


Did you know that Beyoncé is the only person in the world who's got a lifetime supply card to Popeyes? Lunch is always on her!


Lastly, at just 40-years old today, Beyoncé has established herself as one of the most powerful women in music. We're excited to see what the next chapter of her life brings and welcome any opportunity to celebrate her brilliance. Happy birthday, Queen!


DoctorJonPaul is lover of all things education and media, Peloton, donuts and of course, Beyoncé. You can follow them on social media by using the hashtag @DoctorJonPaul and catch them on season 6 the hit Netflix show, "Nailed It".