Natalia Bryant Shares Touching Memories Of Late Dad Kobe Bryant In Touching Birthday Message
The basketball legend would have been 42 years old.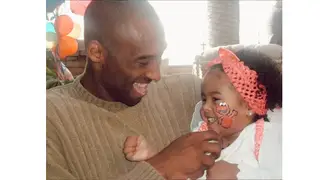 In memory of her father Kobe Bryant, 17-year-old Natalia Bryant posted a heartfelt Instagram message Sunday (August 23),, on what would have been the late basketball superstar's 42nd birthday.
"Happy Birthday Dad. I miss your smile, laugh and big bear hugs. Happy Birthday to the best movie buddy I could have ever asked for. I will always remember our late night drives to the movie theater with the windows rolled down and listening to our favorite songs. I love you forever and always. Always, Slim," she wrote.
The Instagram post included a picture of Kobe holding Natalia, his eldest daughter, when she was a baby. Natalia sports a face painting of Elmo on her cheek, as father and daughter look adoringly at each other with wide smiles.
 
The NBA legend's wife Vanessa Bryant shared an emotional tribute to her late husband and their daughter Gianna Bryant in a private Instagram post on Sunday (August 23).
"To my baby~ Happy birthday. I love you and miss you more than I can ever explain. I wish you and Gigi were here to celebrate YOU! I wish I could make you your fav food or a birthday cake with my Gigi. I miss your big hugs, your kisses, your smile, your loud ass deep laugh," she wrote.