Did Kris Jenner Have a Meltdown Over Rob and Chyna's Baby Name?
Find out what she wanted the newborn to be called.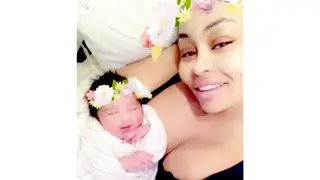 Rob Kardashian and Blac Chyna's daughter, Dream Kardashian, is already becoming a social media star less than a week after her birth, but one member of newborn's family wanted a little more control over her "brand identity," starting with her name.
According to sources, Kris Jenner was trying to push an entirely different first name on her son and future daughter-in-law, and was disappointed when they chose Dream. "Kris would have loved them to follow tradition and pick a K name for the baby," an insider tells Hollywood Life. "They told her all along it wasn't going to happen but she was still holding out hope right up until she saw the birth certificate."
What name did she want the first-born Kardashian since Rob to have?
"Her first choice was Kris, she would have loved it if Rob named his firstborn after her," the source says. We bet she would.
Despite her "dream" of bringing another Kris Kardashian into the world (molded to her own image, probably), Kris is happy as a clam with her newest grandchild. "She's over her disappointment, the most important thing to her is that the baby is healthy and Rob is happy," our source continues. "Her heart is so full right now, she feels like this baby saved her son's life. The past few years have been very hard for Kris, she's seen Rob struggle so much and no matter what she tried nothing seemed to help. There were many nights she was on her knees begging God to intervene and save her son."
Well, considering how many children she has, Jenner still has a good chance at getting one of them to name a kid after her, but only Rob can deliver the full "Kris Kardashian" package. 
Get the full scoop on Rob and Chyna welcoming their little girl to the world with BET Breaks, above.