BET Awards 2022: 5 Artists Who Need To Collab With Jazmine Sullivan
The "Best Female R&B/Pop Artist" winner plays well with others.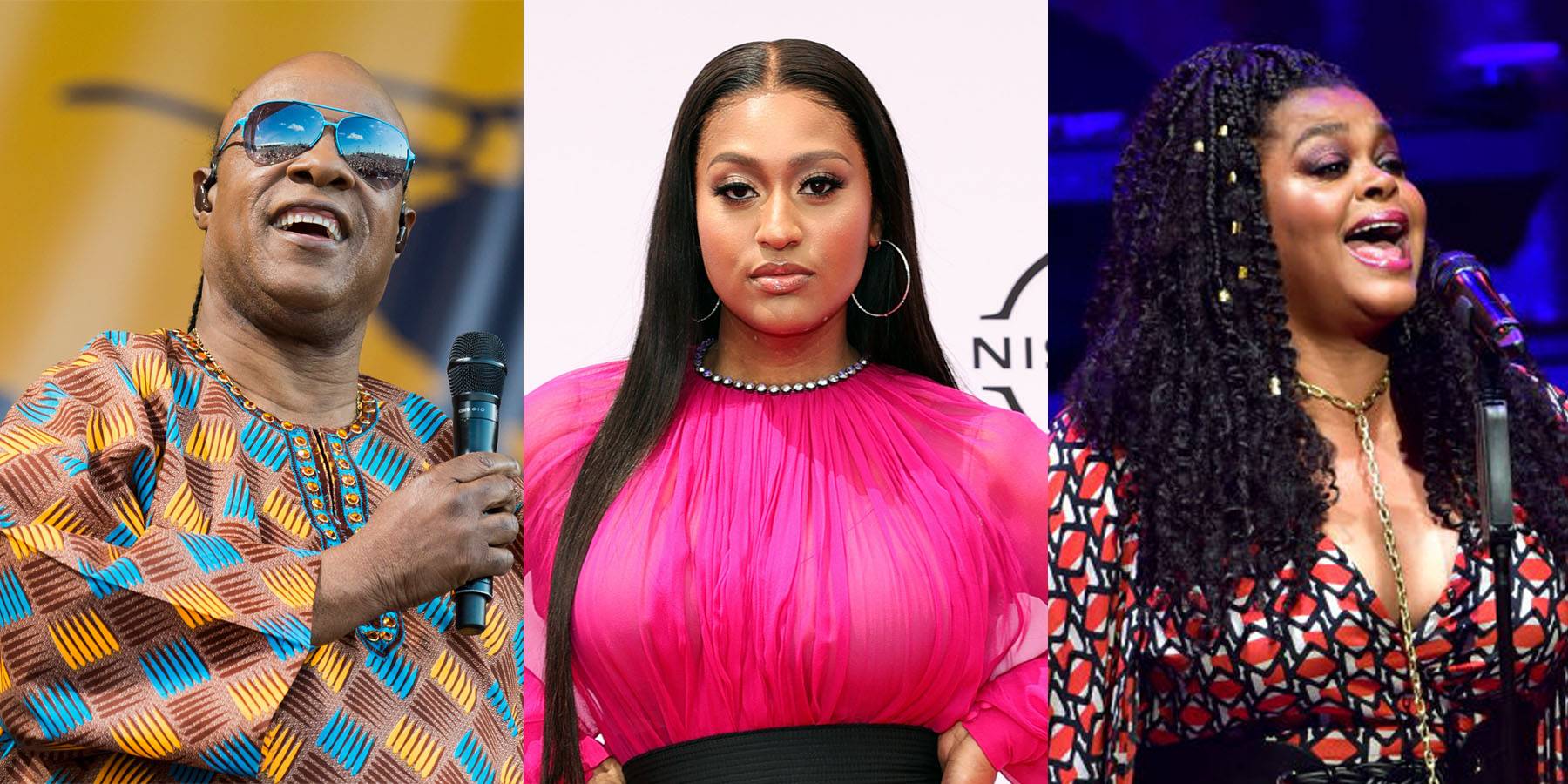 Last year, Sullivan mentioned a few people she'd like to work with.
"I love H.E.R. Whenever she's ready [to record again], I'm down," she told Billboard on the red carpet. "We already talked about doing some more work."
Sullivan also said she'd love to work with Anderson .Paak again, too. "The way he creates his music, the way that he rhymes, the way that he sings with that soulful voice -- I love it!" she raved. "I feel like both of our voices would complement each other."
We'd love to see her work with these artists again, and, while we're dreaming, we came up with more artists she could work with to bring guaranteed heat. Here are the top five collabs we'd love to see Jazmine Sullivan do next:

Anderson .Paak and Bruno Mars as Silk Sonic

.Paak collaborated with Sullivan on the song "Price Tags" for Heaux Tales, leaving them both wanting more creative time. After seeing how he and Bruno Mars pulled off Silk Sonic's intimate performance at the BET Awards, where they also won the prize for Best Group, it's evident that these three minds should start making music together.


H.E.R.

Hopefully you caught H.E.R. playing drums and guitar at the BET Awards and already know how multi-talented she is and what a great bandmate she would make for Sullivan. They already recorded "Girl Like Me" together for Heaux Tales and both performed at the Super Bowl earlier this year — it's time to form an unstoppable duo

Megan Thee Stallion

Believe it or not, Megan, who performed her single "Thot Shit" and also made a cameo during DJ Khaled's all-star set at the BET Awards 2021, has actually sampled Sullivan before. "Circles," which appears on Thee Stallion's 2020 debut album Good News, samples and speeds up the hook to Sulllivan's 2010 hit "Holding You Down (Goin' in Circles)."  It's almost like they've already worked together! Put these two in a studio to vibe and record together and you're bound to get something imminently listenable (and possibly just a little bit freaky).


Jill Scott

Five years ago, Jill Scott took to Twitter to ask Sullivan what her schedule was like, and fans have been wanting them to meet up to make music ever since. These two working together just makes sense to us — they're both proudly from Philadelphia and share deep roots in the sound generated by the city's great soul artists. We'll wait as long as it takes, but there's no time like the present to get started!


Stevie Wonder

Sullivan & Wonder has a great ring to it, don't you think? He invited her to sing with him at a concert and private jam session in Philadelphia in 2015, and it sounded like they'd been collaborating their whole lives. The truth is that she's been singing with him for a long time in her head, and a formal duet would bring the best out of her.

"I've been listening to Stevie Wonder since I was a child," she recently told radio station WXPN. "His music is timeless and his lyrics are poetic. He has inspired me to make music that is true to me as an artist." Wonder twin powers, activate!