See Why French Montana Is Getting Clowned For Wearing This Christmas Outfit Before Thanksgiving
Looking all Christmas gift wrapped.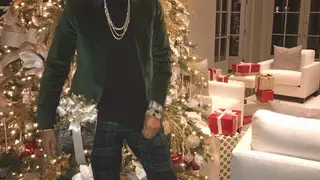 Look at the calendar, folks. We have yet to celebrate Thanksgiving. But because we live in a capitalist hellscape (not to mention a social media-minded hellscape), the holiday season has gotten an unnecessary extension.
Enter French Montana: dude went to Kris Jenner's Christmas party once, and now he's celebrating the birth of Baby Jesus a full month before the winter solstice hits. If we had to guess, the only real aspect of the Kardashian curse is that you get a taste of the most ostentatious celebrations our country has to offer, and then once you're out of the circle of trust, you have to come to terms with the fact that you can no longer celebrate the birth of a biblical figure in a foyer filled to the brim with tinsel. Sigh. So what's a guy to do? Bring the KJ spirit to the comfort of your own home, duh!
Let's break down exactly what Kareem is twerking with. This is peak menswear, people! We've got the turtleneck, the chain game, the velvet suit jacket, full-on plaid pants, and some velvet slippers that we can't help but think are Lord Disick's influence. Looking all Christmas gift wrapped, but like... we'd be lying if we said we weren't here for it. 
Dudes, take a cue from French and turn your ho, ho, ho, holidays into a haaaan-tastic gathering. It's all in the outfit! Don't be afraid to experiment with festive textiles — after all, if you brick a 'fit, the only peeps that will peep it are your fam!