Common Claims Barack Obama Owes Him A 1-On-1 Game Of Basketball
He told Jimmy Fallon on 'The Tonight Show' how the game came about.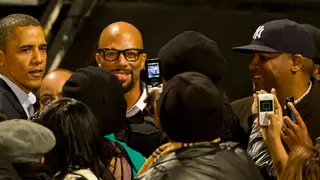 Common is a man of many talents, and he carries his confidence with him. When he spoke with Jimmy Fallon on Friday (August 20), he expressed confidence that he could beat the 44th President of the United States in a game of one-on-one basketball. 
During the appearance on The Tonight Show, the 49-year-old rapper, actor, and author recounted how he was supposed to play basketball with President Barack Obama, but never got around to it. 
"My mother actually is really great friends with somebody who works for that president. And for one of my birthdays, she got me a gift that I was supposed to play President Obama in a 1:1 in basketball," he explained. "It was years ago, and I never got to fulfill that prophecy."
Common recounted the story when Fallon asked if he gave Obama a gift when he attended and performed at Obama's 60th birthday bash. 
He jokingly stated that "my gift was, I just brought my talent to the table. I thought about it later like, 'Damn, I didn't get him anything.' But what do you get the president?"
Both Obama and Common have a general love and appreciation for the game of basketball, so the showdown could possibly occur in the future. 
"I was ready to play him, and I was ready to beat him no matter what," he said. "And I wasn't going to back down because he was the president, or Secret Service was around doing their thing. I was gonna go hard. I've got love for Michelle [Obama], I've got love for the family, but I wanted to beat Barack Obama."
Common is preparing to release his Beautiful Revolution Pt. 2 album on September 10. "When We Move" is the lead single and features artist Black Thought from the Philadelphia-based hip hop group The Roots.