Iconic Hip-Hop and R&B Collaborations that Shaped the Music Industry
Join us on a nostalgic journey through iconic tracks that shaped music history as we explore the fusion of hip-hop and R&B in 10 unforgettable collaborations.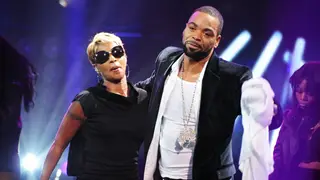 Some of the greatest hip-hop songs ever made involve an injection of R&B into them. Perhaps it's the slower nature that has fans grooving along when they hear those amazing bars mixed with that soulful hook, or perhaps the catchy nature of said hook carries it in people's memories.
Regardless, as we celebrate hip-hop's 50th year, we bring you 10 of the greatest examples of hip-hop music and rhythm and blues combined for a song. We have them listed below (in no particular order).
Warren G feat. Nate Dogg: "Regulate" (1994)

Album: Regulate... G Funk Era

Some used to say, "It ain't a hit without a Nate Dogg hook," which certainly was the case with Warren G's 1994 single "Regulate." Perhaps Nate's most memorable feature during his career, the song is a timeless anthem that employs that classic G-Funk swing while carrying the soulful crooning of Nate Dogg and the laid-back bars of Warren G. Everyone knows what's about to happen when they hear "Regulaatooors!"

Method Man feat. Mary J. Blige: "I'll Be There For You / You're All I Need to Get By" (1994)

This one is classic for so many reasons. It combines Method Man when he and Wu-Tang Clan were on top of the hip-hop world with Mary J. Blige, who was going through one of the peaks of her career. The soulful singing of the Queen of Hip-Hop Soul laid over that eerie RZA beat is one of the oddest pairings that ever connected – for a home run.

Puff Daddy feat. Faith Evans & 112: "I'll Be Missing You" (1997)

A somber tribute to the late Notorious B.I.G., who had tragically passed just months prior, "I'll Be Missing You" captures the raw emotion of Biggie's death while evoking strong, soulful melodies of Faith Evans and 112.

Jay-Z feat. Alicia Keys: "Empire State of Mind" (2009)

If you ever walk the Brooklyn Bridge on a random afternoon, you'll hear this song about ten times. It's the quintessential New York hip-hop/R&B pairing, and who doesn't get chills when Alicia Keys hits that "Nuuuuuu Yaaaaaaawk!" Hov has many classic collabs with R&B singers, but could this be his best?

OutKast feat. Sleepy Brown: "The Way You Move" (2003)

Album: Speakerboxx/The Love Below

Undoubtedly, we had to get the South involved in this list, and where better to turn than OutKast and their Speakerboxx/The Love Below hit "The Way You Move." It's the quintessential Dre and Big Boi mixed with their longtime Dungeon Family collaborator Sleepy Brown. This one will light up any party still to this day.

Ja Rule feat. Ashanti "Always On Time" (2001)

It's impossible not to include Ja Rule in a list that pairs hip-hop and R&B, so we decided on "Always On Time," the classic Ashanti-assisted cut on Ja's classic 2001 album Pain Is Love. The song was a premiere example of the undeniable chemistry between the two artists – pairing Ja Rule's gruff rapping with Ashanti's sweet and soft vocals.

Kanye West feat. Jamie Foxx: "Gold Digger" (2005)

Kanye West made a name for himself with The College Dropout in 2003. However, if anyone wasn't hip to him then, they certainly were after "Gold Digger" dropped just a few years later. Jamie Foxx's Ray Charles-inspired hook perfectly bridges 'Ye's witty verses about those who are all about the dough in a relationship.

Nas feat. Lauryn Hill: "If I Ruled The World (Imagine That)" (1996)

Illmatic or It Was Written? For many rap fans, the answer is easy: the former. However, when you start comparing each album track-for-track and "If I Ruled The World (Imagine That)" comes up, the debate becomes a lot more difficult. Peak Nas featuring peak Lauryn. What else could you ask for in a song, especially one that's incredibly inspiring to boot?

The Roots feat. Raphael Saadiq: "What They Do" (1996)

Album: Illadelph Halflife

As hip-hop began moving into a more commercial affair during the mid-to-late '90s with Bad Boy Entertainment showing off champagne and fancy cars in music videos, The Roots did the same thing with "What They Do," however it was a commentary over the then-soul of the genre. It may seem crazy to think now, but many hardcore hip-hop heads found the commodification of rap videos corny and or not within the spirit of the culture. That's what this was and on top of the critique, it's a beautiful song and one of the standouts on the Philly group's magnum opus, Illadelph Halflife.

50 Cent feat. Nate Dogg: "21 Questions" (2003)

Album: Get Rich Or Die Tryin'

Get Rich or Die Tryin' is a classic through-and-through, but would it be as potent without "21 Questions?" Amongst an album that relayed the tales of street life and the glory of making it as a kingpin, the Nate Dogg-featured single slowed down the LP just for a moment to show 50's softer side. It was originally a controversial inclusion to GRoDT, but can you imagine the album without it? Giiiiiirrrrrllll.