Sunny Hostin Reveals She Had A Breast Reduction After Years Of Back Pain: 'It Was A Health Decision And A Self-Care Decision'
'The View' co-host underwent cosmetic surgery in August 2022.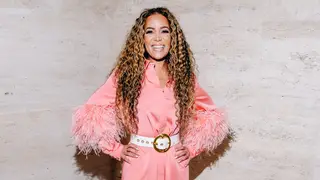 Sunny Hostin says she feels "great" after going from a G-cup to a C-cup! The View co-host revealed in an interview with People that she underwent cosmetic surgery in August 2022 for a breast reduction and lift. She also had liposuction on her waist and chin.
"I feel like a better version of myself," Hostin shared about the procedures she underwent after years of struggling with back pain and body-image issues. "It was a health decision and a self-care decision."
According to the talk show star, her breasts were a double-D by the time she was 16. They continued to grow when she was pregnant with her children, son Gabriel and daughter Paloma. "I couldn't imagine my breasts would get bigger with childbirth — however, they did," she explained.
"My waist was small, but my top was so big I would wear a minimizer bra and a sports bra or a binder all the time," she revealed about her insecurities while co-hosting The View. "Or I would get a very large dress, and then my stylist would put clips on the back of my dress so that everything would fit."
Hostin decided to move forward with surgery when she went to get dressed for the White House Correspondents' Dinner in April 2022 and realized her dress's built-in bra didn't fit. She instead had to use masking tape. 
"I was crying," she told the media out. "I sat there and didn't eat anything. I couldn't lift my hand because my boobs were going to fall out. [Musical group] Bell Biv DeVoe wanted to take a picture with me. I was like, 'Oh God, they're going to have these pictures of my boobs hanging out.'"
After undergoing surgery, Hostin hired a private nurse to assist during her two-week-long recovery at home.
"It's not glamorous," she explained about the healing process that required three days of using drainage tubes to prevent blood and fluid buildup. "I was up and walking around in three days. I was back to work in two weeks, and I was doing Pilates in two months."
"I thought I would feel shame, like, 'Oh my God, I'm doing plastic surgery like all these crazy celebrities.' But I don't feel shame at all," she explained about her decision to share her story. "And I hope sharing my story will help more people. If they're feeling so body-conscious, the way I was — they can do what they need to do to feel better."