Marvel Studios Designed 'Black Panther' Hospital Gowns For Children With Serious Illnesses
See how the kids will be reppin' their inner T'challa!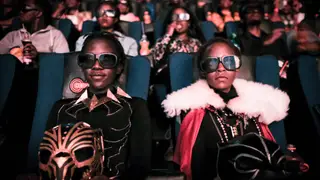 Even before The Black Panther hit theaters, children and adults quickly bought any item imaginable to channel their inner T'Challa. Now, children in hospitals will be able to see themselves as the Black Panther and other Marvel superheroes thanks to Marvel Studios: Hero Acts.
As a part of Marvel Studios 10-year anniversary, their charity division Hero Acts has donated $1.25 million to change the lives of children with serious illnesses. $800,000 will go to the Make-A-Wish Foundation and $450,000 to Starlight Children's Foundation in order to create more than 26,000 Starlight Gowns. These gowns will feature artwork inspired by various Marvel Superheroes. Check out these amazing gowns: 

Starlight Children's Foundation aims to create hospital gowns that are both comfortable and colorful in contrast to the standard paper-thin hospital gown. "Every kid dreams of transforming into their favorite Marvel superhero," says Starlight CEO Chris Helfrich, "and a hospitalized child is no different."
According to the Marvel website, they will also be adding Marvel Products and custom Avengers-themed comics to Disney hospital care packages that will be sent to more than 440 children's hospitals around the country.
Marvel President Kevin Fiege explains that, "It is an honor to make a meaningful contribution to these two organizations that continually strive to enhance the lives of seriously ill children."
Disney aims to comfort and inspire children with serious illnesses and now these kids can feel just as powerful as a Wakandan with these superhero-inspired gowns!