Antonio Cromartie And His Wife, Terricka, Welcomed Their Sixth Child And Announced A New Reality Show
"The Cromarties" will highlight the couple's busy daily lives with all those children.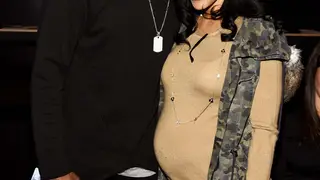 Antonio Cromartie's wife, Terricka, took to her Instagram account yesterday to announce the birth of their sixth child, Jhett Paxton Cromartie, who was born on August 30 at eight pounds and two ounces.
But their beautiful baby girl isn't the only new addition for the free-agent NFL cornerback and his wife. That's because Terricka simultaneously announced the impending debut of The Cromarties, their new reality television show, which will air on November 9 on USA Network, shedding light on the couple's daily life with six children.
And if you'd like a taste of what to expect from the show, take a look at these pictures of the Cromarties with their beautiful children. These shots were taken while Terricka was still carrying Jhett.
Altogether, the 33-year-old Cromartie has 14 children, including eight kids from past relationships with seven women and the six he has with Terricka. It's incredible that the couple had Jhett, considering Cromartie had a vasectomy in 2011. Terricka vows, though, that this is it.
"We are 100 percent done! Absolutely, positively done with having kids," Terricka told Us Magazine. "We've been blessed with these guys, but adding to it, I think, would kill us both!"
She also told the same outlet to not expect any baby mama drama on The Cromarties.
"Not this season," she said. "We talk about our blended family, but that'll be an issue for next season."
BET Sports News — Get the latest news and information about African-Americans in sports, including weekly recaps, celebrity news and photos of your favorite Black athletes.