BET Awards 2021: The Best Big Hair On The Red Carpet That Continues To Leave Us Speechless
We plan to attempt these looks THIS summer! How about you?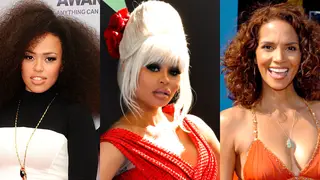 The BET Awards provides the perfect outlet for celebrities (and their hairstylists) to experiment with bold new beauty trends. In fact, it is not uncommon to see some of our favorite stars using the red carpet as their runway with eye-catching looks. Below, see some of the most memorable manes showcased over the years. And take note, most of these hairstyles are still trending today!
2005: Jada Pinkett Smith

Jada Pinkett Smith showed off her flirty side with a head full of curls at the 2005 BET Awards. The carefree tresses beautifully framed the actress' face as she strutted down the red carpet in a fashion-forward evening gown featuring a bodice of strategically placed gold chains.

2005: Halle Berry

Switching up from her signature short hairdo, Halle Berry looked summertime fine with her volumized curls that playfully rested on her shoulders. We especially loved how the auburn-colored style wonderfully paired with her burnt orange beach dress.

2013: Elle Varner

The bigger the hair, the better! Elle Varner graced the 2013 BET Awards in a fashionable bodycon dress and freshly blown-out hair. The Refill singer never disappoints when it comes to displaying her natural hair, and we love it.

2018: Amara La Negra

There's nothing like a fabulous 'fro moment. Afro-Latina singer Amara La Negra provided just that at the 2018 BET Awards. That year, the Love And Hip Hop: Miami star told BET Style that her gorgeous tresses are maintained by her loving and protective mom, Mami Ana. "My mother is the only person I allow to do my hair," the former pageant girl proclaimed. So sweet!

2019: Blac Chyna

One of our favorite Blac Chyna beauty moments is undoubtedly her sky-high platinum blonde beehive that commanded attention at the 2019 BET Awards. The reality star's elaborate updo proved to be the perfect look to accompany her bright red gown that featured ruby sequins, a seductively high slit, and a plunging neckline.

Watch the 2021 BET Awards on June 27 at 8/9C p.m.