Yale Students March Over Concerns About Racial Sensitivity
Students say voices of minorities are not being heard.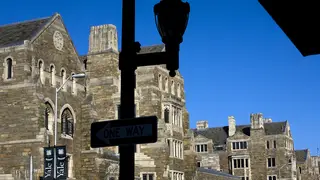 NEW HAVEN, Conn. (AP) — Hundreds of Yale students and supporters have marched across campus to demonstrate against what they see as racial insensitivity at the Ivy League school.
Students at Monday's "March of Resilience" say they do not believe the voices of minorities are being heard.
The march follows several racially charged incidents at Yale, including allegations that a fraternity turned a woman away from a party because she was not white.
Students also cite an email from a faculty member who objected to a request from the Intercultural Affairs Committee that students avoid wearing racially insensitive Halloween costumes.
On Friday, school President Peter Salovey sent a campuswide email saying he was deeply troubled by the atmosphere. He called on the community to come together and be more respectful and inclusive.
Watch as the president of the University of Missouri steps down below.
BET National News - Keep up to date with breaking news stories from around the nation, including headlines from the hip hop and entertainment world.
(Photo: Christopher Capozziello/Getty Images)