Former Dipset Rapper 40 Cal Searches Desperately For Missing Daughter Saniyya Dennis
The college student was last seen leaving her dorm.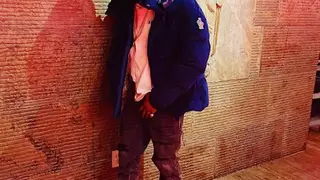 The search continued on Sunday (May 2) for 40 Cal's daughter, Saniyya Dennis, a Buffalo State College student who was last seen leaving her dorm room shortly before midnight on April 24.
"We combed the whole park, even places where she was nowhere near, putting up flyers. The dogs came out yesterday, and today they had the helicopter for the search," the rapper, whose real name is Calvin Byrd, told WGRZ-TV on Saturday (May 1).
He took to social media to ask the public for help.
"Been in Buffalo if anybody have any info!, Dm me!, I have money for anything that connect!" a message on 40 Cal's Instagram account stated.
Her mother, Latisha Dennis, talked to her on the previous day.
"She's more of a home body, and if she was to go out, it was a big event going on, she would be happy to share it. She often shared things with me that she was doing, so I have no idea where she was going," Latisha Dennis said. "It was reported that she hadn't shown up to work, and she didn't show up to class, and she's not like that. She's very studious."
The former Dipset rapper has offered a reward for information about her whereabouts.
"My daughter Saniyya is missing out of Buffalo State College .... anyone with any helpful info hit my dm , any other matters respectfully don't contact me!, $10,000 for any info that connect," he posted on Instagram.
 
Because of COVID-19 restrictions, students do not have roommates, so her friends were unaware of where she was headed.
Police investigators said last week that there was no indication of foul play and no criminal investigation was underway.
Anyone with information about Saniyya Dennis is encouraged to call the police at (716) 878-6333.