Suge Knight Shares Thoughts On Nipsey Hussle's Death
"I feel that Nipsey was trying to follow the same Tupac manual to the community..."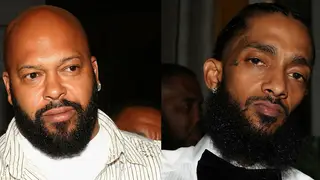 While the rest of hip-hop focuses on continuing the legacy of Nipsey Hussle, a.k.a. The Marathon, West Coast OG Suge Knight reportedly stepped forward with his thoughts on the Victory Lap artist's rise and fall from behind bars.
According to his alleged conversation with TMZ, Suge likened Nipsey to himself, stating that "a lot of artists like Nipsey have the same problem [he] had." That problem, TMZ cites of his statement, is their loyalty to the hoods that raised them. Like the Victory Lap rapper, Suge claimed he returned to his street roots often because "when you go around Hollywood it's all watered down." But similarly to his Death Row Records protégé and another late West Coast icon, Tupac, Suge reportedly believes it was his loyalty that ultimately led to his demise.
Ironically, Nipsey and his L.A. community also drew close comparisons between him and Pac…

So close that he even dubbed himself the "Tupac of his generation" on his "Dedication" record. In a way, Suge feels that Nipsey and his legacy followed in the same footprints as Pac's, and sadly, ended tragically as his, too. "I feel that Nipsey was trying to follow the same Tupac manual to the community," TMZ reports of his thoughts. "He came together with YG like Snoop did with Tupac."

But even Suge had to hand it to Nipsey—in over two decades, he reportedly acknowledged, he's never seen L.A. unify the way they did to honor Nipsey. "What's good is that all the hoods getting together now," he reportedly stated. "We can be stronger considering what happens when we come together."

We second that one, Suge.