Black Man Says He Suffered Serious Injuries in Brutal Encounter with Texas Police
'I kind of folded like a flip phone,' Keandre Green recalled of the arrest for what his lawyer said was a minor offense.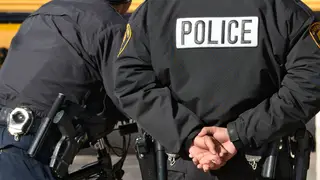 A Texas man says he needs more time to recover from back injuries sustained during a brutal arrest by Duncanville police officers.
at Methodist Charlton Medical Center where he had multiple back surgeries.

Green was released from the hospital on Wednesday (Aug. 16).
According to the Duncanville police, the Aug. 11 encounter began when officers responded to a complaint from a female caller who reported a man exposing himself, Fort Worth station KXAS reports. Green ran when the officers tried to arrest him for an outstanding warrant. The officers warned Green that they would hit him in the face if he failed to comply with their orders. When they caught up with him, one of the officers punched Green in the face twice to gain control, the police stated.
Green recalled the encounter as being more brutal than the police version of what happened.
According to Green, he explained to the officers that he was jogging and stopped to urinate in an alley. When the police conducted a computer background check, they discovered that Green had an active warrant for domestic violence. He ran, but the cops caught up to him.
"The only thing I remember is them breaking my back. In that moment, when they grab me from the front, I kind of folded like a flip phone. That's when my spine cracked," Green stated.
Green's attorney, Justin Moore, has demanded the release of police bodycam or dashcam footage of the arrest and said the Texas Rangers are investigating the incident.
"We have a huge issue here. A young man had his spine crushed for jogging. The underlying offense was indecent exposure...a minor offense that shouldn't lead to a very brutalized response," Moore said. Moore went on to show a medical report that indicates Green sustained breaks or cracks in the front part of three spine bones between the upper and lower back.
Green said it could take three months before he's "functioning again."
Meanwhile, Duncanville Police plan to re-issue the warrant for Green and file a new charge for evading arrest.