#MAGABomber Suspect Cesar Sayoc Jr. Arrested By Police For Sending Explosives To Trump Critics
Officials found the registered Republican in a white van plastered with Trump and presidential seal decals.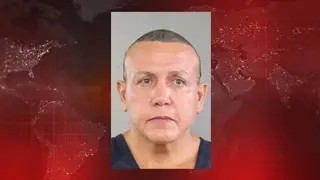 A Florida resident was arrested by police in connection with the explosive devices sent to critics of President Donald Trump, including Barack Obama and Cory Booker.
According to officials, DNA evidence led police to 56-year-old Cesar Sayoc Jr. in his white van, which had pictures of Trump and the presidential seal plastered on the windows. Sayoc was detained and transported to a secure facility, reported NBC News.
Sayoc, who is a registered Republican, has a criminal record that dates back to 1992. In 2002, he was arrested for making a bomb threat, according to Miami-Dade County court records. Sayoc, who was known to have money issues, also once tried to walk out of a Walmart with a shopping cart filled with $239 worth of merchandise, according to an arrest affidavit.
A cousin of the suspect told NBC News she was stunned by Sayoc's arrest.
"Oh, my God," the anonymous woman told reporters. "He's always been a very nice, thoughtful person. I don't know anything about this. It's shocking."
The cousin said she hadn't seen Sayoc for two decades, but that he called her recently after her father died.
"It was mostly just small talk," she said. "How's your family, that kind of thing. I don't really know that much about him. We have a very big family."