Al Sharpton Asks President Biden To Help Arrange A Clergy Visit With Brittney Griner
The civil rights leader wants to check on the well-being of the WNBA star who's on trial in Russia.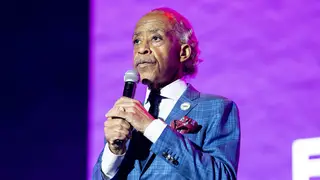 Civil rights leader Rev. Al Sharpton urged the Biden administration on Wednesday (July 6) to arrange a clergy visit for him and other ministers to see WNBA star Brittney Griner, who's imprisoned in Russia while on trial for alleged drug trafficking.
"It's my intention to be in Russia next week. And I hope the White House will help to make it possible for me to do a clergy visit to let her know of the support and to let her know that her family and everyone is concerned about her and pray with her," Sharpton said on MSNBC's Morning Joe program.
Shapton asked, "Is it because she's Black and gay and a woman" that Griner languishes in a Russian prison, facing a decade behind bars in a criminal justice system that has a near 100 percent rate of convictions? He questioned if the same situation would be allowed to happen to L.A. Lakers superstar LeBron James.
Griner, 31, who had been in Russia playing for UMMC Yekaterinburg was arrested on Feb. 17 by the Russian Federal Customs Service at Sheremetyevo Airport near Moscow after agents said they discovered hashish oil vape cartridges in her luggage.
The trial started on July 1, amid tension escalating between the Cold War enemies over Russia's invasion of Ukraine.
U.S. State Department officials have classified Griner as "wrongfully detained." Many have said she's being used as a political pawn and urged the White House to make a prisoner swap to secure her release.
Sharpton agreed with Scarborough that it's important to see Griner in-person to assess her well-being.
"...And you must remember, as her wife has told me, she's in a prison where most of the people can't even talk English. She can't even communicate with the people that run the prison. She's in a Russian jail," Sharpton said.
Meanwhile, White House press secretary Karine Jean-Pierre said Tuesday (July 5) that Biden has read a letter from Griner in which she appealed to the president to help bring her home, Reuters reported.
"As I sit here in a Russian prison, alone with my thoughts and without the protection of my wife, family, friends, Olympic jersey, or any accomplishments, I'm terrified I might be here forever," Reuters quoted Griner's letter.
The White House, in a statement sent out to the media on Wednesday, said that President Biden and Vice President Harris spoke with Griner's wife, Cherelle.

"​​The President offered his support to Cherelle and Brittney's family, and he committed to ensuring they are provided with all possible assistance while his administration pursues every avenue to bring Brittney home," the statement said.
In addition, National Security Council Spokesperson Adrienne Watson said in a statement: "President Biden has been clear about the need to see all U.S. nationals who are held hostage or wrongfully detained abroad released, including Brittney Griner.  The U.S. government continues to work aggressively – using every available means – to bring her home."