Brittney Griner Does Not Enter Plea As Trial Begins In Russia Over Drug Smuggling Charge
"She has the right to do so later," her lawyers said about entering a plea, reports say.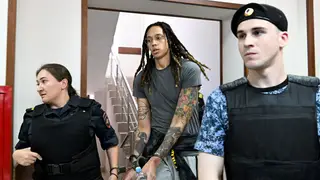 WNBA star Brittney Griner began trial Friday (July 1) in a Moscow court on drug smuggling charges, which can be punishable by up to 10 years in prison, CNN reports.
The 31-year-old Phoenix Mercury player, who was in Russia to play during the WNBA's off season, was arrested February 17 at a Moscow airport, a week before Russia invaded Ukraine, the report says.
She was charged with transporting a "significant amount," or 0.702 grams, of cannabis oil, according to The Washington Post. She did not address the charge Friday, the first day of trial. When asked why not, her lawyers said: "She has the right to do so later, CNN writes.
Griner's wife, Cherelle, told CNN's  New Day, ahead of the trial that 6-foot-9 star has to "travel over five hours round trip when she goes to court in a very, very, very tiny cage with her knees bent, feet up to the ground, because it's not big enough for her to fit in."
"According to the expert's conclusion, the detected substance is cannabis oil, which is subject to control on the territory of the Russian Federation and is classified as a narcotic drug," a senior customs official said.
The trial is scheduled to resume on July 7.
Maria Blagovolina, one of her lawyers, said Griner had "no complaints over the conditions of her detention."
She was arrested after agents said they found hashish oil vape cartridges in her luggage.
She is scheduled to remain in custody until December, which could be subject to change, depending on the outcome of her trial.
Griner's supporters in the United States have called on President Joe Biden to work out a deal with Russia, one similar to a prison swap that took place in April when Russia exchanged a former Marine for a Russian pilot serving a 20-year prison sentence in Connecticut for drug trafficking.