Settlement Talks To Begin Between Family of Henrietta Lacks And Biotech Company
Lacks' cells were taken without her consent and became the famed HeLa cell line. Now her family wants to be made whole.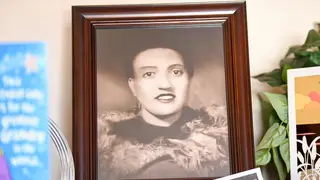 The family of Henrietta Lacks is currently in talks to reach a settlement with a biotech company that they are suing after years of legal battles.
According to CBS News, Lacks' family and Thermo Fischer Scientific, the company that profited from her cells, after taking them without her consent, will seek to reach an agreement at a settlement conference on Monday (July 31).
While undergoing treatment for cervical cancer in 1951 at John Hopkins Hospital, Lacks' cancer cells were used as the source of the first immortalized human cell line. As her cells kept reproducing, the HeLa immortal cell line was created which is used in biomedical research today.
Lacks' cells were the cause of several medical advancements such as the development of the polio vaccine, HIV/AIDS treatment, the COVID-19 vaccine, as well as cosmetic breakthroughs.
Tragically, Lacks died at age 31, a few months after her initial treatments for cancer.
In October 2021, Lacks' family filed a lawsuit requesting that U.S. District Judge Deborah L. Boardman order the company to compensate Lacks' living descendants "for products derived from the cells."
"We are proud to say no longer will Henrietta Lacks be ignored," said Benjamin Crump, the family's attorney.
In the response, Thermo Fischer Scientific argued that no law prohibits them from replicating the cells and that the complaint should be dismissed because too much time has passed.
But Crump vehemently disagreed with the biotech company's position,
"Each time that there is a regeneration of, and selling for profit and commercialization of these cells, the statute of limitations starts all over again," Crump explained.
After presiding over the case for almost two years, U.S. District Judge Deborah Boardman referred the case to U.S. Magistrate Judge J. Mark Coulson earlier this month. On Thursday (July 27), Coulson announced that the settlement conference will take place.
For decades Lacks' story was largely unknown until 2011 when The Immortal Life of Henrietta Lacks by Rebecca Skloot was published. In 2017, Oprah Winfrey starred in the film of the same name.
Rep. Kweisi Mfume who represents Baltimore, filed legislation seeking to grant Lacks a posthumous Congressional Gold Medal for her contributions to medicine and science.
"While being treated, the hospital collected samples of her cells. Lacks' cells, labeled "HeLa cells," were a medical revelation, reproducing at a high rate and capable of dividing numerous times without dying," Mfume's statement read at the time,
"This breakthrough resulted in Ms. Lacks' cells becoming a revolutionary medicinal tool, used to develop the polio vaccine and advance treatments for cancer, HIV/AIDS, Parkinson's disease, leukemia, hemophilia, and others," the statement went on. "In addition, her cells have contributed to breakthroughs in cloning, in vitro fertilization, gene mapping, and many more functionalities.
"My family applauds our Congressman Kweisi Mfume for his leadership on the introduction of the bill to posthumously award a Congressional Gold Medal to my beloved mother, Henrietta Lacks," said Lawrence Lacks, Sr., Henrietta Lacks' eldest son.
U.S. Sens. Chris Van Hollen and Ben Cardin also filed legislation in the Senate supporting the measure to honor Lacks
"While these cells continue to benefit millions across the world, they were taken without the consent or knowledge of Ms. Lacks and her family," Cardin said in a statement, adding that the honor would "ensure that her contributions are recognized and honored for generations to come."