Fund For Reggie Ray, Charged In Montgomery Boat Brawl, Passes $270K
Ray, who reportedly wielded a chair during the Riverboat brawl, was released from jail on August 12.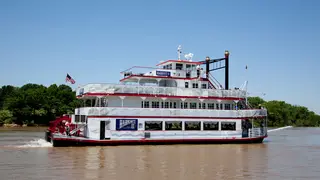 An Alabama man who authorities accuse of swinging a folding chair at several people during the Riverboat brawl in Montgomery, Ala., has been released from jail and a GoFundMe that has been established to pay for his legal fees has raised over $275,000,  Insider reports.
In a statement posted on Instagram, Lee Merritt, a civil rights attorney who's representing several people involved in the melee, confirmed Ray's release.
"Mr. Reggie Ray is out," Merritt wrote. "He is in good spirits. He got a speeding ticket on the way home but he was relieved to discover the community showed up for him and others in such a strong way."
Merritt also noted that Ray was "involuntarily roped into the disorderly conduct initiated by a violent white mob" but has been cooperative with law enforcement concerning the investigation.
The now infamous riverfront brawl was sparked when a group of white boaters refused to move their small boat from a docking spot that was earmarked for the Harriott II. When Dameion Pickett, the boat's co-captain,  attempted to speak with the boaters with the group about moving their pontoon boat, he was attacked by several people. In response, several bystanders came to Pickett's defense which resulted in an all-out brawl.
Since the incident took place, many believed that the attack could be categorized as a hate crime.
While Crystal Warren, an employee on the Harriott II, claimed that the boaters called the dock worker the "N-Word," one participant in the brawl, Anwar Price, a Black man, said that race was not a factor in the brawl.
"A lot of people are trying to promote this as about racism, and I don't really think this was a racism thing," Price explained.
In an interview with The Daily Beast, Jim Kittrell, Captain of the Harriott II, argued that racism had to be the key factor that compelled the group of white men to attack the dockworker.
"The white guys that attacked my deckhand — and he was a senior deckhand first mate — I can't think of any other reason they attacked him other than it being racially motivated," Kittrell explained. "All he did was move their boat up three feet. It makes no sense to have six people try to beat the snot out of you just because you moved their boat up a few feet. In my opinion, the attack on Damien was racially motivated."