Is Apple Giving The iPhone X The Ax This Year?
The latest iPhone model will be "end of life" in the summer of 2018.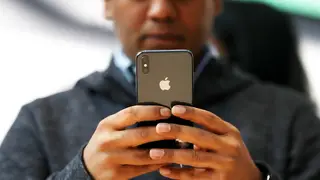 There have been a slew of rumors surrounding the idea that Apple plans to discontinue the iPhone X after this year due to disappointing sales. Tech sites are saying it's unclear if this is true, but the facts are that iPhone X sales fell short of expectations. The X is to date the most expensive iPhone on the market, ranging from $999 to $1149 (depending on storage size). Even with awesome features, including an exceptional selfie-friendly camera, the demand wasn't there. Maybe folks just couldn't afford the pricey phone considering a new survey that claims interest in the new iPhone has hit a historic low.
According to AppleInsider, KGI Securities' analyst Ming-Chi Kuo says that the disappointing sales will lead to the cancellation of the model "with production ceasing in the summer." He predicts the iPhone X will be "end of life" in the summer of 2018 instead of being retained as a lower-cost option in the following year. It would make sense if they discontinued the X because they have done it before. When the iPhone 5s was created, Apple discontinued the 5 and replaced it with the iPhone 5c. This was a cheaper version of the 5 with similar traits.  
However, the predicted iPhone 2018 lineup shows promise. Apple analysts are speculating that Apple intends to release several "iPhone X like" products in the fall. These new phones will include expansive screens, an X plus, an iPhone X sequel and possibly a cheaper version of the X with a smaller screen and singe camera versus the dual camera in the current X. Are you here for this next iPhone rollout from Apple?