Is This Drake's Response to the Eminem Beef Rumors?
He wants to cool this thing down.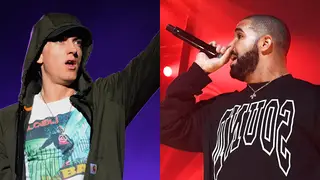 It's not even been confirmed if there really is a beef brewing and Drake's latest Instagram post may be an attempt to scale back the potential superstar bout. A few hours ago, the Toronto native took to the social media site and posted a pic of himself with the caption, "If they don't have a story these days…" accompanied by an annoyed-face emoji.
It's not for certain whether Drizzy was referring to the beef. It's definitely the biggest conversation that currently includes his name, so it's with the greatest likelihood that his post has something to do with it.
The idea of a Drake and Eminem beef really started to grow legs yesterday (August 3) when Hot 97 radio host Ebro Darden began circulating the beef rumor. He shared what Drake had to say during what he boasted was a "private conversation" between the two.
Ebro apparently caught up with Drake backstage during OVO Fest on Monday and asked him if the rumor Eminem was coming for him was true or not. "I told Drake that the rumor was that Eminem was gonna gear up to come after him," Ebro later said on air. "He laughed. He was like, 'That's not gonna happen. He'd never do that and if he did, I've got something for him too.'"
Since the conversation wasn't recorded, all we have is rumors at this point. It seems like Drake is annoyed at what's transpiring. Check out his latest Instagram posting presumably about it below.