Steph Curry Makes A Hole-In-One As The Winner Of The American Century Championship Golf Tournament
Curry is the first active athlete to win the ACC since 2000.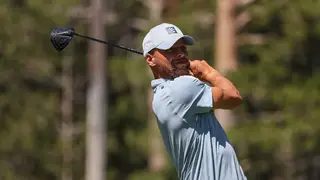 The two-time NBA MVP made a hole-in-one as a contestant in the 2023 American Century Championship celebrity golf tournament at Lake Tahoe in Nevada on Saturday (July 15).
After seeing his ball bounce in on the seventh hole from 152 yards away,  Curry celebrated as if the Golden State Warriors won another championship. He was seen running at top speed on the greens and fist-pumping as the crowd chanted "MVP."
Curry went on to finish the first round at Edgewood with an enormous 27 points and had a lead of  47 points heading into the final round on Saturday (July 15).
In an interview after the round, Curry revealed that he has been working with a golf coach for the first time and he couldn't be more happy with the results.
"All it is, is just kind of like how I approach basketball, you just put little blocks on top of each other and then eventually you find a pattern that you're comfortable with," Curry said, "and then like two simple swing thoughts that you can go out into a tournament-type environment and trust that the ball is going to go where you want it to go."
Many in the sports world noticed Curry's accomplishment including NFL superstar quarterback Patrick Mahomes who tweeted, "I wish I was as cool as @StephenCurry30."
In the final round of the tournament on Sunday (July 16), Curry put on another incredible performance by sinking a long eagle putt on the 18th hole.
After the shot, Curry tossed his hat in the air and then showed some love to his wife Ayesha.
The enthusiastic crowd began yelling "MVP, MVP,'' as Curry moved into the number one spot over Mardy Fish, a retired tennis pro for the win.
With the victory, Curry became the first active athlete to win the ACC since retired NFL kicker Al Del Greco won in 2000.
Dell, Curry's father, finished 11th place, and his brother, Seth, finished tied for 46th.