BET Awards 2022: Atlanta Rapper Latto Wins For Best New Artist
Sprite celebrates the "Big Energy" rapper who is clearly here to stay.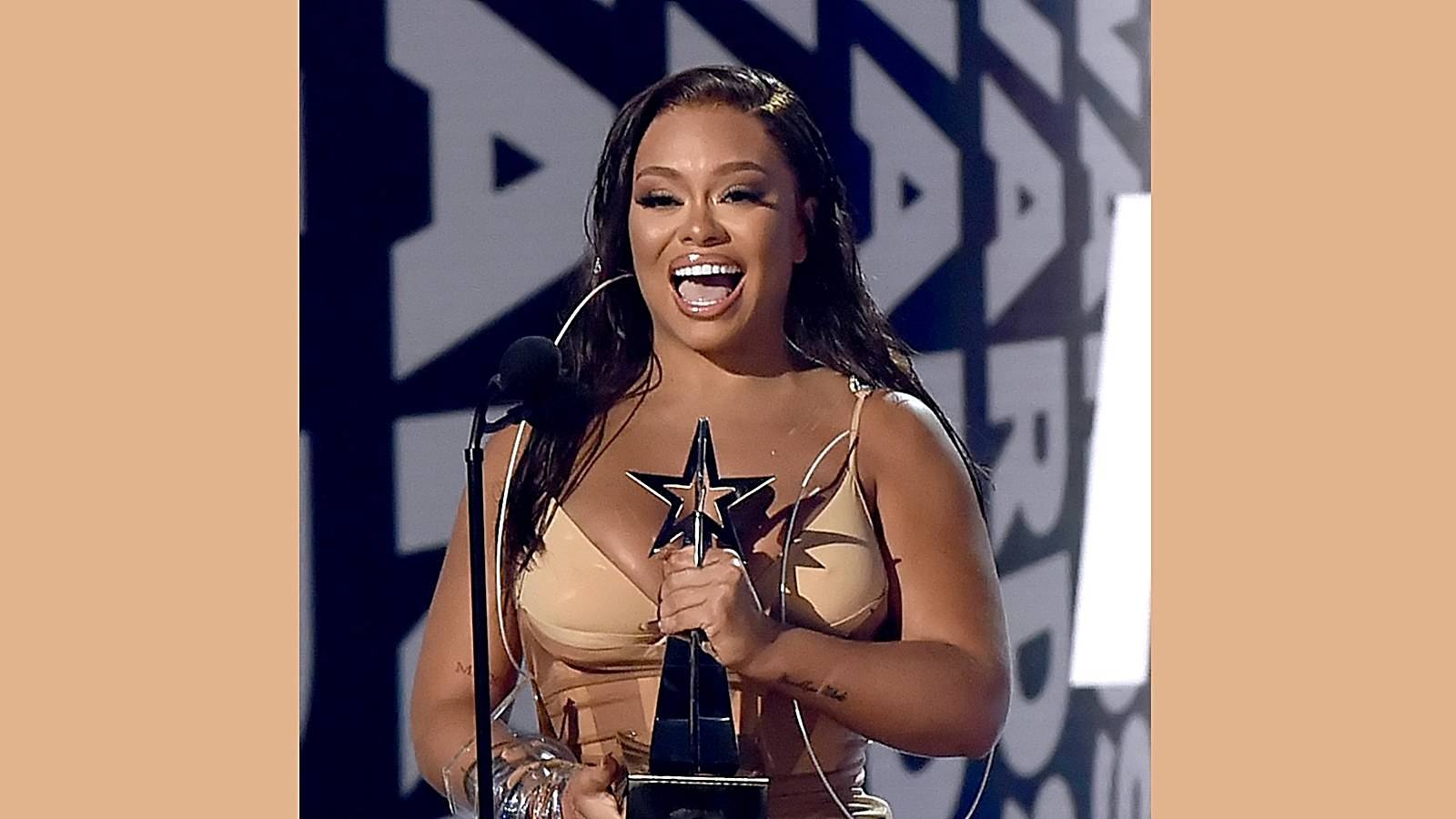 Latto won the award for Best New Artist at the BET Awards 2022 for her hit song "Big Energy."
The Atlanta native and dynamic rapper accepted her award with tears in her eyes. "It's giving boss b-tch!" The rapper said to the crowd. She thanked her mom, and her team, as she fought back tears. She also gave a shout-out to all of the other nominees. "You deserve this just as much as me."
If you asked Latto what the meaning of her hit song 'Big Energy' was she'd probably point you to her social media page, where she has a total of 12.4 million followers from Twitter and Instagram alone.
While many view the chart-topping single as an ode to men who are well-endowed, the song is actually all about women's empowerment and having an aura when you walk into the room that no one can deny. That is the same exact aura you'll see from her on social media and during interviews and performances.
But the 23-year-old rapper had quite some time to perfect this radiance that emanates from her everywhere she goes. Latto, born Alyssa Michelle Stephens, has been in the rap game since she was 16 but began rapping at only 8 years old.
But the road to fame was not always easy. In a 2021 interview with Hot97, Latto recalled missing out on birthday parties and going to the skating rink as a kid so that she could work on her craft and perform at shows. At that time she resented her parents for not letting her ditch the shows to enjoy time with her friends but said that as she got older she realized it was a blessing in disguise.
Although Latto didn't have a traditional childhood of hanging out with her friends whenever she wanted, she did spend time focusing on making what she calls "small money" as a kid. In the 6th grade, she recalled getting $100 features, which back then was a lot of money for her. She also used to throw teen no ID parties, and charge $10 a person. Her parents allowed her to take home all of the profit, and they played the role of "fake security."
In 2016, at just 16 years old the Atlanta native joined the hip-hop reality show, The Rap Game. At the time she went by the rap moniker Miss Mulatto. Later, she shortened the name to Malutto which led to years of criticism due to the racially charged meaning behind the word Mulatto. In an interview with Billboard in 2018, Latto finally spoke out about the name and why she decided to change it. "Mulatto was a negative term that I was trying to make positive," she told Billboard. "I don't want any more of that negative energy. Latto is good fortune. … Latto is like 'Lotto,' but my little twist on it. … It's good fortune — I got '777' tatted on me. I live this."
The former reality star gained popularity after her 2019 hit song, "B-tch From the Souf," from her debut album, "Queen of Da Souf." She made history as the first female rapper in Atlanta to go platinum, for the song "B-tch From the Souf" remix featuring Saweetie and Trina. Her song featuring Gucci Mane titled, "Muwop" certified gold. Her 2021 hit song, "Big Energy" off of her newest album "777" took her to new heights becoming the most popular and highest charting song of hers to date, peaking at number 3 on the US Billboard Hot 100.
In an interview with Variety, Latto broke down the meaning of "Big Energy." She talked about how it has nothing to do with what is in a man's pants and that women can have big d-ck energy.  "When you make these uplifting songs, people think it has to be corny and it doesn't… It can be in a cool way where you don't even realize you're practicing self-love when you listen to this song but you are in a fun, exciting, fresh way," Latto told Variety.
In the summer of 2021, Latto first partnered with Sprite to headline Sprite's Live From The Label, a performance series that gave fans across the globe access to live stream performances. In 2022, she teamed up with Sprite and The Atlantic Hawks to launch a series of immersive, high-tech appearances.
But even after topping the charts and making waves with big-name partnerships, Latto is still learning how to navigate the industry. In an interview with the Breakfast Club, the rapper told the hosts there was still a lot to learn about the business. "There's a lot I wasn't made aware of," she said, referring to the industry. "I just want to rap."
From starting out making "small money" as a kid with $100 features to becoming a reality star and making it to the top of the US Billboard Hot Charts, it's clear that Latto is not going anywhere anytime soon.