Kerry Washington Graces Elle Cover
The actress talks success and getting red carpet ready.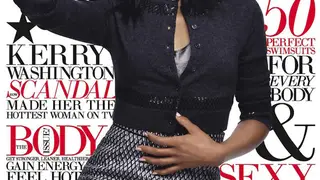 Kerry Washington is looking super hot on her first major fashion magazine cover for Elle's June issue. On it, she wears a printed bodysuit with a cropped jacket and red pouty lips and in her interview talks about her success and what she'd do if she hadn't pursued acting.
"I imagined I'd be a clinical psychologist, with a focus on how performance shapes identity," she says. "I'd figure out ways to use role-playing in the healing of people."
Looks like performing would still be her calling in some way even if it didn't involve her doing her thing in front of the camera. Luckily for us, the starlet has seen much success on both the big and silver screen with a role in Quentin Tarantino's hit film Django Unchained and as the star of Scandal. Up next is Peeples, which opens this weekend.
"I'm the luckiest broad in Hollywood now. To be the lead actor on Scandal and to be in the highest-earning Tarantino movie — I don't get to ask for more," Washington says.
She might not want to ask for more, but with her talent there's no doubt that more will be knocking on her door soon enough. As for the thrill of being a Hollywood darling, Washington says she's loving her red carpet moments.
"I found out I enjoy the process. All these people show up at my house, they all have kits, someone has dresses. And it's like, let's have fun. It's not all about me. We're able to create stories on the red carpet."
Check out Washington's glam photo shoot when Elle's June issue hits newsstands May 21.
Get ready for the BET Experience, featuring Beyoncé, Snoop Lion, Erykah Badu, Kendrick Lamar and many more. Go here for more details and info on how to buy tickets. 
BET.com always gives you the latest fashion and beauty trends, tips and news. We are committed to bringing you the best of Black lifestyle and celebrity culture.
Click here to subscribe to our newsletter.