Director's Cut: How Matthew Cherry Went From 'Hair Love' To 'Young Love'
The award-winning director talks to BET about his career and 'Young Love,' which drops on Max Sept. 21.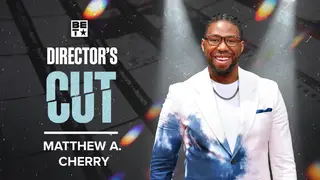 Matthew Cherry is a filmmaker whose work has touched hearts and continues to break new ground in storytelling. The Chicago native got his big break with his Oscar-winning short film, "Hair Love." Now, "Young Love" takes us back into that world, offering a continuation of the story we fell in love with. Even more exciting is the star-studded ensemble cast that brings these characters to life. With voices provided by the incredible talents of Issa Rae, Debra Wilson, Sheryl Lee Ralph, Loretta Devine, and Kid Cudi, this promises to be an experience like no other.
In this Director's Cut feature, we'll explore Cherry's creative process, his dedication to authentic and meaningful storytelling, and the impact of his work on representation in animation.
BET: Congrats on "Young Love" coming to Max. When you first began "Hair Love" years ago as a fundraiser on Kickstarter years ago, did you imagine the project going this far?
Matthew Cherry: We thought it could be more than just a short. I think the initial ideations for a lot of the things that "Hair Love" ultimately ended up becoming really came from seeing the first images from [illustrator] Vashti Harrison. Obviously, thinking about something and actually doing it are two different things, but as "Hair Love" got so much love, we were like -- this is crazy, all this is happening with just a short film. How cool would it be to expand this world? We thought about a movie, but it didn't seem big enough, and we ultimately settled on the TV series. It just felt like there was a great opportunity. Animation can be so many things, but you don't really see a ton of grounded, family sitcom-style shows. I've never seen an animated series that focused on a millennial couple that had a kid that really hadn't had their life figured out or didn't know where they wanted to be in their career, but they also wanted to be present parents -- that's kind of where young love came from.
BET: How does "Young Love" differ from "Hair Love"?
Matthew Cherry:  "Young Love" is a continuation of "Hair Love." It's different in that there's talking -- there's dialogue. We use similar animation software to make it feel like it came in the same world. We get to see the inner workings of this family. We get to meet grandparents, co-workers, and classmates. The show is set on the west side of Chicago. I'm from Chicago, so I'm super proud of that. [Laughs]
BET: While you're an executive producer on "Young Love," you've been directing everything from "Swagger" to "Abbott Elementary." What is your vision behind the lens?
Matthew Cherry:  I started as a production assistant. I worked on shows like "Girlfriends" and "Heroes" as a PA. Directing is all about servicing the story. For me, it's always just about what is necessary to make this scene come to life and be impactful. If you go into it with that mind state, almost what you're doing becomes a bit more in the background because people are so immersed within the characters. That's always kind of the goal -- not to be in the way, just to help serve as a story.
BET: You also directed an episode of Paramount's "Ghosts," how was that experience?
Matthew Cherry:  "Ghosts" was great because I knew I would be working on this animated series. Seeing the different comedy styles from these various shows, like "Ghosts," is so great because they have a lot of heart. They are also really funny and aren't afraid to have a heartfelt and touching moment along with a really funny bigger moment. Just that balance of the tone, I think "Ghosts" was vital for me to work on because it helped to show me that we could go for a slightly different tone on "Young Love" that we haven't seen in animation before -- something that was more grounded, something that was a little bit drier, more situational as opposed to something having to be so big and loud.
BET: We are all the directors of our own life. What does the director's cut of your life and your journey in Hollywood look like thus far?
Matthew Cherry: The Director's Cut of my life has been accomplishing everything I've set my mind to through the help of amazing people on the team, the crews, and the various things I've worked on. You have always to continue to grow, continue to learn, continue to be a student, and not be afraid to listen to people. A great idea can come from anywhere.
"Young Love" premieres on Max on September 21.