Maryland's Historically Black Beach Will Become A City Park
Carr's Beach was a refuge during segregation.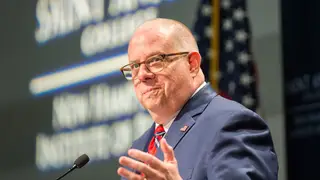 Carr's Beach in Annapolis, Maryland, which  was a refuge for Black communities during segregation, will now become a city park.
According to CBS Baltimore, Governor Larry Hogan announced on March 14 that Maryland will provide more than $4.8 million toward the purchase of the beach for the development of a city park. Additionally, $2 million in congressional spending, which was secured by Democratic U.S. Senator Ben Cardin, will be used to fund the park.
Blacks of the Chesapeake Foundation (BOCF) and Chesapeake Conservancy, which has also entered into an agreement to fund the property, said in a statement, "This is a dream come true. Blacks of the Chesapeake Foundation has been working for 15 years to preserve the meaningful and unique aspects of Black history and culture on the Chesapeake Bay at the site of Elktonia Beach, the last remnant contiguous to Carr's and Sparrows beaches. This parcel directly fronting the Bay is so much more than just a pin or dot on a map. It serves as a national case study for the preservation and conservation of African American sites."
The Conservation Fund of Maryland will be purchasing the property on behalf of the City of Annapolis.
During the 1950's and 1960's, Carr's Beach was known as "the beach." James Brown, Cab Calloway, The Temptations, Ike and Tina Turner, The Shirelles, Little Richard, Billie Holiday and others performed at the popular African American destination.