Microphone Cardi B Threw At Woman in Audience Being Auctioned For Charity
The bid for it currently stands at over $50,000.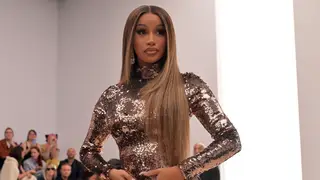 Last week, Cardi B threw a microphone at a woman who tossed water at her while performing on stage in Las Vegas. Now, that alleged microphone has become the gift that keeps on giving.
According to PEOPLE, the microphone is being auctioned on eBay in an effort to give back to deserving causes. The listing is coordinated by Scott Fisher – the owner of The Wave– the audio company that reportedly provided the microphone for the "Up" singer's performance that day.
In his effort to turn a messy situation into a blessing, Fisher was inspired to "try to do something good" after he was compelled to sell it after the incident. Aligning his heart to donate, Fisher said in the description of the listing that all the proceeds will be split between two charities, Friendship Circle Las Vegas and Wounded Warrior Project.
Fisher took to Facebook, where we explained his intention. "I own the mic that Cardi B was nice enough to tomahawk at somebody that splashed some liquid on her a few days ago," he said.
"After some encouragement from people I decided to auction it off with 100% of the profit going to be split evenly amongst 2 charities. One is a local charity called Friendship Circle Las Vegas. The other is Wounded Warrior Project."
According to the description of the ad, Fisher is certain the mic – a Shure Axient Digital Mic– is the one used by Cardi B. "This is the Shure microphone shown in all the viral videos that Cardi B threw at a person in the crown at Drais Beach Club on July 29th 2023," Fisher explained.
He added, "We provided more than one microphone for this particular show and verified with the in house crew which one was specifically used by Cardi for the show.  It was pretty easy to identify though as her mic was marked "main". This is the mic that has been seen all over the country flying into the crowd after Cardi was splashed with some liquid."
At the time of this article, bids for the mic had reached $50,900. The listing will close August 8.