Sources Say Tristan Thompson Was Feeling Free And Flirty With A Woman At The ESPYs After Party
The Cavaliers' forward went clubbing without Khloe for the first time since the cheating scandal.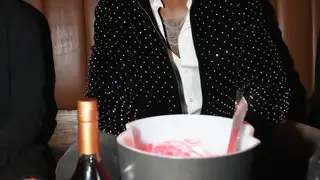 It looks like Tristan Thompson may be back to his old ways!
Only months after the Cavaliers' power forward was publicly outed for cheating on Khloe Kardashian while she was pregnant with their baby, Thompson was spotted letting loose at the club, reported Radar Online.
According to a source close athlete, Thompson went to an ESPYs after party without his baby's mother by his side.
"Tristan felt like a free man," a source told Radar Online.
This marks the first time the 27-year-old has been out clubbing without Khloe to keep him in check. Apparently, Thompson took "full advantage" of his temporary freedom.
"He had the biggest smile on his face and was flirting with several cute girls and took one in the corner and exchanged numbers," the insider told Radar exclusively. "He was real slick with it."
Thompson allegedly tried to hide by wearing a hoodie into the club.
"He convinced her he had to make an appearance for business reasons and to catch up with his friends since everyone was in town for ESPYs, and she fell for it," the source revealed.
Lately, Tristan and Khloe have appeared to be on the mend. The two have shared PDA-filled Snapchat videos and Instagram posts with their baby, True.