A$AP Rocky Has Been Released From Sweden's Custody Pending Assault Trial Verdict
The judge's decision to let him leave may be a sign.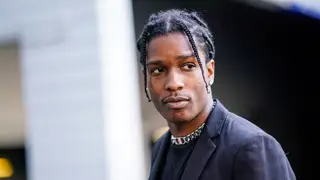 After three days of hearing witness testimonies from both sides and reviewing police evidence, the Swedish government has released A$AP Rocky from their custody on Friday (Aug. 2) pending a verdict in his trial.
The judges involved with his assault case will spend the next two weeks deliberating as to whether they will ultimately sentence him to prison, according to the Associated Press. For the time being, the Harlem rap artist is free for the first time in over a month since he was first detained by the Slavic country this past June after prosecutors deemed him a flight risk.

Rocky pleaded his innocence again in court today alongside two unidentified female witnesses and his bodyguard, who testified on his behalf that they did not see Rocky nor anyone from his team strike 19-year-old Mustafa Jafari with a bottle during their street brawl as its been alleged, which has been the crux of the international legal-and-forth between Swedish prosecutors and Rocky's defense team.

CNN reported that Rocky will not be required to be in Sweden during the hearing for his judgment, per the court's decision. Following the judge's intermediary decision, the Harlem native reportedly booked it back to the United States shortly after court proceedings concluded.

His lawyer, Slobodan Jovicic, gave CNN an update on how things are looking from their end.

"We had two goals -- one goal was that my client was going to be a free man today," Jovicic said. "And then we are hoping for an acquittal in 14 days, but we have to wait and see."

If he isn't cleared of the alleged crime, Rocky could possibly face up to six months in prison, rather than the two years that was widely speculated. Swedish prosecutors only asked for a six-month sentence against the the 30-year-old rapper while Rocky's team angled for community service, according to AP. 

Although he isn't in the clear yet, Rocky was in high spirits. Shortly after the news broke, the Harlem rapper penned an emotional message to his fans and supporters who stood by his side during the ordeal, and he thanked the Swedish government for freeing him and two associates. 

"Thank you from the bottom of my heart to all of my fans, friends and anyone across the globe who supported me during these last few weeks," he wrote. "I can't begin to describe how grateful I am for all of you this has been a very difficult and humbling experience." 

The trial will resume on August 14 where it is expected the judges will deliver their final judgment that decides Rocky's fate.