Oprah Winfrey Addresses Weight Shaming in New Panel Conversation
'The State of Weight' seeks to reframe the dialogue around obesity.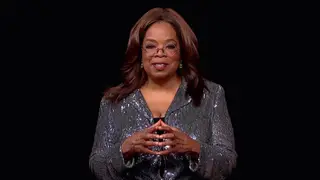 In a new installment of her "The Life You Want" series, Oprah Winfrey and a panel of experts will work to reframe the way we think about weight.
"The State of Weight," will feature Winfrey in dialogue with WeightWatchers CEO Sima Sistani, obesity specialists Dr. Fatima Cody Stanford and Dr. Melanie Jay and psychologist Dr. Rachel Goldman, to discuss obesity and weight issues affecting 2 billion adults globally, according to USA Today. 
During the discussion, Winfrey discusses her history of being ostracized in the media for her weight fluctuations.
"I don't know that there is another public person whose weight struggles have been exploited as much as mine," Winfrey says in the trailer for the series.
She adds, "This is a world that has shamed people for being overweight forever, and all of us who have lived it know that people treat you differently; they just do. And I'm Oprah Winfrey, and I know all that comes with that, but I get treated differently if I'm 200-plus pounds versus under 200 pounds."
"One of the things that I've shamed myself about and was ashamed in the tabloids every week about for 25 years is not having the willpower," she says. "There is a distinction between mindset, which we're now hearing. … The brain tells you a certain thing about how you process food versus the willpower."
"It hurts to see you ostracized in the way that you've been," Stanford, an associate professor at Harvard, tells Winfrey. "Because this isn't about willpower … It's how our bodies regulate weight. Each of us is different, each of us is unique."
In addition to discussing brain chemistry and its effects on weight, Winfrey and her panelists will also talk about weight-loss drugs that are gaining popularity—including Wegovy (a prescription medication for adults with obesity) and also Ozempic—a prescription drug used to treat diabetes.
The conversation and an entire curriculum will launch today Wednesday, September 20, at 4 p.m. EST on The Oprah Daily.  Access to the exclusive content is $35 annually.