How Tracey Lee Pivoted From Major Label Emcee To Sought After Entertainment Lawyer
The Howard and Southern University Law Center graduate is still putting out music including a modern update to 'The Theme (It's Party Time)'.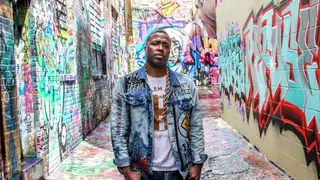 Tracey Lee, a former Universal Records artist, knows all too well the importance of having a plan after being dropped from a label. Lee's journey in the music industry started with a promising signing to Universal Records under the guidance of Mark Pitts, a storied music industry executive. This led to the release of his debut single "The Theme (It's Party Time)," which spent an impressive thirty-seven weeks on the Billboard Top 100 charts.
However, despite the success of his single, Lee's debut album Many Facez failed to establish him as a leading rap star. Despite featuring guest appearances from heavyweights such as Notorious B.I.G. and Busta Rhymes, the album did not live up to expectations. Nevertheless, Lee's experience serves as a reminder that even with initial success, it is crucial for artists to have a plan for their future in the unpredictable music industry
Lee's journey in the music industry took a unique turn when he enrolled in Southern University Law Center to study law. His education and passion for the music industry led him to become an entertainment lawyer, representing a diverse range of clients including Eric Roberson and Young Guru. He leveraged his experience and knowledge to not only provide legal counsel but also to educate aspiring artists about the music business through his role as an adjunct professor with Coppin State University.
Despite his impressive accomplishments as a lawyer and educator,  Lee has not forgotten his roots in music. He continues to create and release music, with his most recent work being "Party Time XXV." This demonstrates his unwavering commitment to his passion and showcases his versatility as an artist who can excel in multiple industries.
Speaking with BET.com, the emcee/lawyer discusses his journey, his love of HBCUs and the type of fanbase he caters to.
BET.com: Hello fellow Jaguar! Do you have any thoughts on the hip-hop 50 performance last weekend at the Grammys?
Tracey Lee: From the clips I saw, I think it definitely was warranted. It definitely was a moment for us. What I'm saying is that it was a victory for us. However, it's unfortunate that we can't get highlighted just as much every year being as though the culture is a big part of the music and of the business. Regardless it was good to see a lot of OGs get recognition and get out there on that big stage. It all made me shed a tear.
BET.com: As someone who was once signed to a major label and even had Notorious B.I.G. and Busta Rhymes on your debut, what made you want to step back and go the route to become a lawyer?
Tracey Lee: I'm on the label from 96 to 2001 when I got dropped and then I was back to square one. The thing that I learned during that time is you need people in your corner and one of those important pieces is that you need proper legal representation. When I entered the game I didn't get an entertainment attorney, my attorney was a corporate attorney which is different. That's some of the nuances that a lot of people and young artists don't understand. I wanted to be an advocate for artists.
So I wanted to give them the representation that I never had which is somebody that could understand it from in front of the mic as well as behind the mic. I wanted to give them proper guidance and give them the understanding that I never got going into the game. To me, that was a natural evolution or natural progression. That's the reason why I went to Southern University Law Center in 2003, graduated in 2006 and became a licensed attorney in 2007.
BET.com: You went to Howard for your undergrad before getting your record deal and later to Southern Law after getting dropped. Why stick to HBCUs for your higher education pursuits?
Tracey Lee: That's all I know. My mother went to Clark, my father went to Clark, my brother went to Morehouse, my sister went to Clark and my other sister went to Howard. I went to Howard and my wife went to Howard. You know what I'm saying?
I think during your maturation process, going from being a kid to an adult, I think you still need that sense of community around you. That's what HBCUs provide beyond an outstanding education. The element that separates us from all the other academia is the community. PWIs are cool, education-wise, political and network-wise and all that, but the community is not there as far as I'm concerned.
BET.com: As someone who is an active artist still, what kind of legal edge do you have specifically for yourself and where does that relate to artists that you eventually find yourself working with?
Tracey Lee: It's a beautiful position to be in. I'm an anomaly. This is the first of its kind where you have a major label artist that is becoming an attorney while it's still active doing what we do and doing what we love. I understand the process in regard to the digital situation as far as digital rights are concerned in addition to how the streams are matriculated and calculated. Even understanding other changes like NFTs and all this other kind of stuff with various changes that go on with how artists receive income. I'm doing it in real-time for myself but then it also helps me to do it for others that rely on me for consultation. It works hand in hand and it's almost like you're the student at the same time.
I do have a leg up on a lot of these because of the vast experience that I do have. It makes it that much more enjoyable to be able to pass that information to artists that are coming up in the game and give them that information that I never got when I was coming up in the game. I'm coming from both sides. It's received much better coming from somebody that is active as an emcee in particular than let's just say somebody that practices law from a full-time perspective and never got in front of a mic before, never cut records, never did records with B.I.G. and Busta.
BET.com: You recently dropped the "Party Time XXV". What's your current fan base like and how have you been able to manage their expectations?
Tracey Lee: My demographic buys records. We have disposable income to buy them. We have the disposable income to buy t-shirts or anything type of thing that's associated with the person's brand. I think I'm tapped into that. I don't try to go outside my spaces and I don't try to necessarily cater to the kids. Now if the kids love it, that's extra gravy. I've just come to realize who my audience is. I'm a 52-year-old Black man that's doing all right for himself and has a little bit of paper to move around whenever I want. Being in the business for the last 25, 30 years and being keen on music and what it sounds like and what feels good to me, that's the easy part. The economics is just staying true to yourself.