#OnTheVerge: TiaCorine Talks Journey to Stardom, New Music and Upcoming Tour
The 'Freaky T' rapper also recalls her childhood, which she describes as a major catalyst to who she's become.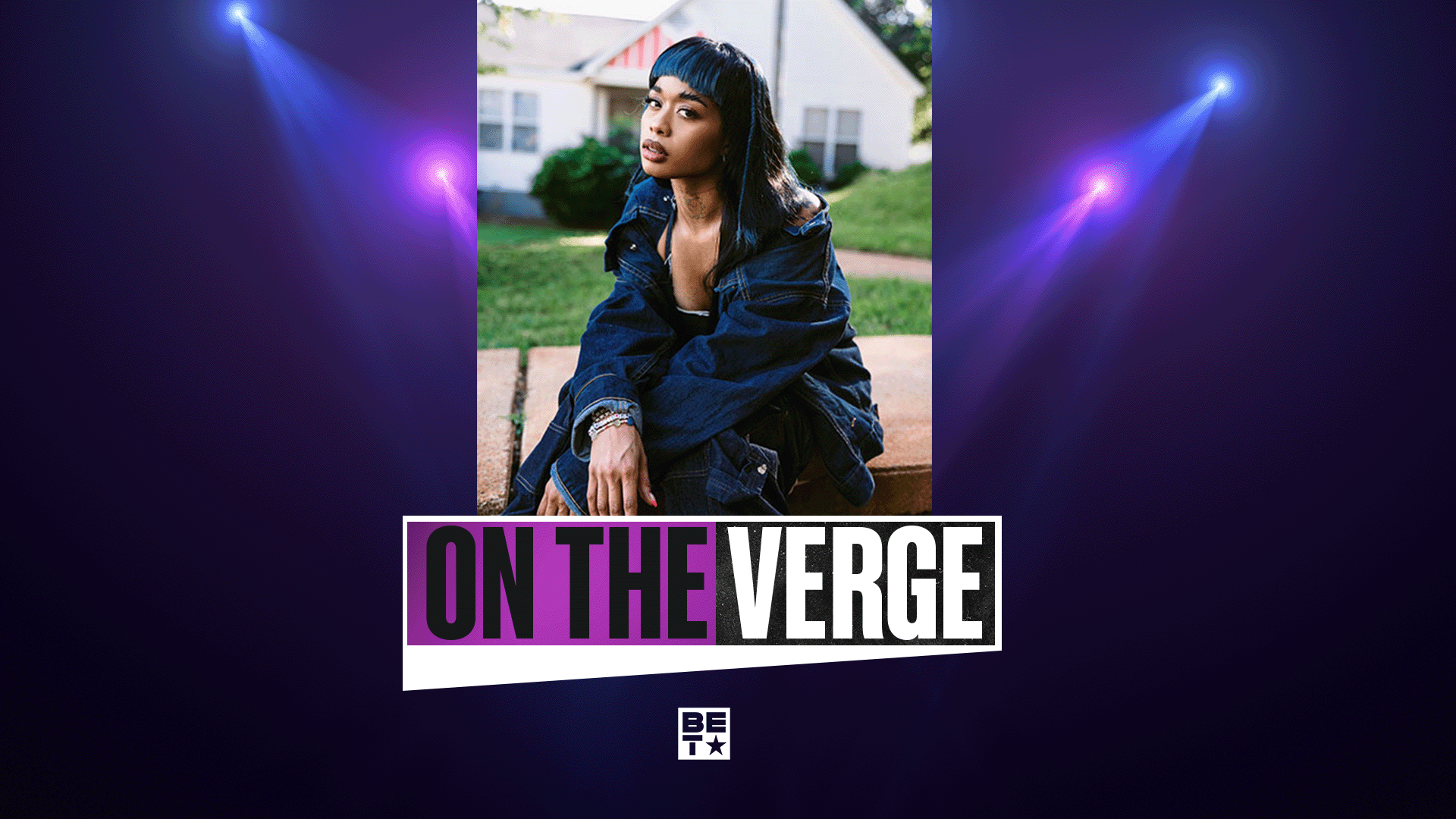 The underground music scene is constantly brewing with fresh sounds and rising artists, just waiting to be discovered by the adventurous ear. But with the fast pace of the industry and the endless stream of new music, yesterday's hit can easily become today's miss. 
That's why #OnTheVerge is here to shine a spotlight on the most promising up-and-comers before they hit the mainstream. Tune in to BET.com every other week to catch the artists destined to make waves and captivate a whole new audience.
This week, we delve into the world of the rising star TiaCorine, hailing from Winston-Salem. She's the mastermind behind the contagious hit "FreakyT" that's taken TikTok and Instagram by storm. But don't be fooled, TiaCorine is no one-hit-wonder. With a string of viral sensations under her belt, this singer, songwriter, and rapper is just getting started and showing no signs of slowing down
TiaCorine burst onto the scene in 2020 with her explosive debut project, 34Corine. Featuring the banger "Latto", the track became an instant hit on TikTok, despite Tia being unsure of how the platform worked. With TikTok taking the music world by storm, Tia quickly became one of the most talked-about new artists, making waves with her unique sound.
"I didn't really know it was that serious," TiaCorine tells BET.com during a recent interview. "I remember going and looking and it just hitting like, 60k, 70k, 80k. I'm just refreshing every day. It's like, going up to like 1000 reposts, and I was like, what does this mean? What's going on?"
34Corine marked a pivotal moment in TiaCorine's career, offering her first chance to captivate audiences beyond Winston-Salem. With a sound blending hip-hop and r&b, the project signaled the start of TiaCorine's ascent to the top. However, to make the most of this opportunity and build on her early success, Tia knew she had to take a step outside of her comfort zone and aim for the stars. This meant experimenting with new styles, taking risks, and elevating her art to the next level.
"I knew I wanted to get out of the underground sound because I wanted [my next project] to be, not more mainstream, but I wanted it to be more mainstream-light," she describes. "So when I'm making these songs, I'm like, okay, they need to hit, the production just needs to be on a better level. I'm listening to 34Corine, this is good, but I'm also listening to these other artists and how their production is, and I'm like, it needs to be bigger, the mixing needs to be better."
That final product was I Can't Wait. Released in September 2022, the album is a fuller and wider introduction to TiaCorine and her multi-genre artistry. It features her trademark ability to both rap and sing, but also instrumentals that vary from more traditional, modern-day hip-hop to Jersey Club, punk rap, rock, pop and much more.
"I want people to understand that I don't have a lane and I want people to be okay with hearing rock one day, hearing hip-hop the next day, hearing pop the other day," she explains. "So while I'm making these songs, I'm thinking about how can I cohesively put this together to where people aren't like, 'What the f**k is going on?' To where they just understand that, 'Yo that's just Tia, her lane is every lane all the time.'"
TiaCorine's musical journey is rooted in the memories of her childhood spent in North Carolina. Growing up, she may have had humble beginnings, but it was a time filled with joy and laughter, thanks to the unwavering support of her loving family. Her parents and siblings nurtured her artistic spirit, sparking a lifelong passion for music and igniting her creative flame.
"I think that my mom allowing me to be open, to experience a lot – I mean we were pretty much poor, economically speaking – my two brothers, and I'm the middle child," she remembers. "So I kind of grew up in almost like a tomboy household, but it was very fun and artistic because my mom is really good at drawing, and knitting. She knitted a lot of stuff for us. And she played a lot of like, '60s '70s '80s '90s pop rock music, and my dad was playing hip-hop."
It was the simple moments that Tia harkens back to that really shaped her artistry – even before she knew music was her calling.
"I just remember being in the backseat – one of my best friends lives out in bumf**k country like s**t – and my mom on the way there would be playing these little pop songs. And I just remember like, Oh my God, this is so great. I would never know the names or who made it because I didn't care," she says. "Something about listening to music in the backseat when you're a kid, you'll look out the window because you can hear something much more different than just the lyrics. I don't know if that's just me but I think being able to hear more of the beat and the adlibs and where they might have cut off in the beat. All of that stuff is really infused into my music. Maybe I just always just loved music and didn't really realize it at that time."
Fast forward – moving from 2022 into this year – TiaCorine's fame and accomplishments are building daily, thanks to the monumental "FreakyT" and her I Can't Wait album.
"I freestyled the first little part of it because I was just sitting there with my homie Manny," she recalls of initially coming up with some of the lyrics for the former. "We were just having fun and he was recording me and I remember finishing it. He told me [then], 'This is it. This is one of the ones.' And I was like, really, you think so? Because I didn't know. I mean, it was cute and we were having fun and I thought that it was okay. He was like 'Nah, this s**t is fire. I'm telling you. This is the one, T.'"
Ironically, she says the viral hit, which has been played millions of times across numerous social media and music streaming platforms, wasn't even something she considered the one until after she got into the studio and heard the instrumentals for it.
"I never really knew it was a hit, that's the crazy thing," she says. "I just remember hearing the beat and I was on [Instagram Live], and two seconds in I'm like, nah, this is it. It just hit my soul like crazy. I think it brought me back to a point in my childhood because my brother, he would play like Project Pat, Three 6 Mafia, Juicy J, and so it just grabbed me back to that point in my life.
Speaking of Memphis-based rappers, TiaCorine announced late last month that she'll be touring with one of the city's biggest out right now. Accompanying Key Glock for his Glockoma Tour, she describes first being asked by the artist personally and the excitement that followed.
"It's crazy. I was doing a hosting [a few weeks ago] in DC and I was actually just talking about him. And then like my friend's like, 'Your phone's ringing. It's Glock Key calling.' And I was that's Key Glock! He called me, he's like, 'Yo, I got a favor.' I'm like, what? He was like, 'You can't tell me no.' I'm like, I will never tell you no, what's up. He's like, 'You wanna go on tour with me?' she remembers. "And I was like, shut up, stop, like, I don't play like that. He was like, 'I would never play like that.' I was like, Are you f*****g serious? Of course! He was like, 'Well, just let me know if you want to come on. I was like, of course! When do we start? 'March' [he replied]. it was like let's get it."
Overall, TiaCorine says she wants music to be a springboard to other endeavors she enjoys. Regardless, she's just getting started.
"I feel like my biggest goal is to use music as a segue to do other things that I want to do," she says. "I want to act, I want to make my own anime show, I want to do voiceovers, I want to sell like novelty collector items. It's kind of just my way of  branching out to do other things that I wanted to do and use that to get in the door."
Preeminent Visual:
Latest Release:
Catch up on all #OnTheVerge features here.