Wendy Williams Apologizes After Outrage Over Mocking Joaquin Phoenix's Cleft Lip
There were calls for the talk show host to be fired.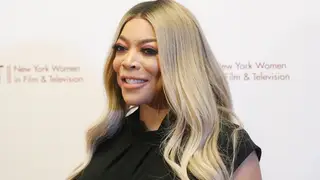 Wendy Williams is trying to make amends after commentary she made after the Golden Globes about Oscar-nominated actor Joaquin Phoenix. Many believed she mocked a scar he has above his lip.
During the January 7 episode of The Wendy Williams Show, the controversial host listed the way she found the Joker star "oddly attractive," saying "when he shaves off his mustache he's got a hairline fracture. He's got one of those — what do you call it — cleft lip, cleft palate."
In an interview from last October, Phoenix told Vanity Fair that his scar is a "nonsurgical scar he was born with," rather than a cleft lip corrected by surgery. Williams, after describing the actor's lip feature, pulled on her lip, mimicking a cleft lip, which angered many viewers.
After a week of silence, Williams apologized to Canadian football player Adam Bighill who has a son born with a cleft lip and tweeted about his disgust for Williams' comments.
She also added that her show has donated to Operation Smile and the American Cleft Palate-Craniofacial Association.
After Williams' comments hit the air, more than 50,000 people signed a petition to have Wendy Williams fired. The change.org petition was created by two parents with a son who has a cleft lip and calls for Williams to be dropped from her show for undeservedly mocking an uncontrollable defect.
"I am completely disgusted that she thinks it's ok to ridicule and make a joke out of something that is completely out of our control," the petition's description reads in-part.
Joaquin Phoenix has not reacted publicly to Williams' comments.