That One Time Justin Bieber Punched a Fan in the Face
He's had it up to *here* with the Beliebers.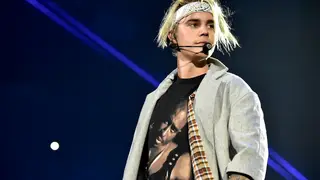 Pop crooner Justin Bieber hasn't caught a break yet from his maniacal fan base, better known as "The Beliebers." So in turn, one of them caught a fade from the "As Long as You Love Me" singer.
On Tuesday (Nov. 22), Bieber pulled up to his Barcelona concert ready to perform. And in typical Belieber fashion, fans went berserk. We don't know if security took a bathroom break or something to that effect, but one fan was able to get close enough to Bieber's moving vehicle to reach in and grab him. What followed was a jab out of the car window from Bieber, which the video shows left the fan with a bloodied mouth.
"He just punched me!," the perplexed fan said as a group of visibly horrified fans stare at his leaky mouth in utter shock. "I touched his face like this and he went boom!"
Welp, in addition to no screaming, you can add no touching to the list of things to avoid should you ever come across Justin Bieber. 
Watch the fist-to-face interaction below.