Police: 'No Idea' What Caused Mass Shooter To Kill 3, Wound 5 At Michigan State University
Anthony McRae killed himself after a search, but no one knows his motive.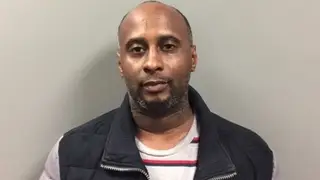 Police are searching for a motive behind the mass shooting Monday night (Feb. 13) at Michigan State University, which left the campus locked down and students shaken in the latest episode of gun violence at a major college.

Authorities say Anthony Dwayne McRae, 43, opened fire on the East Lansing, Mich., campus just after 8:00 p.m., prompting university police to issue a shelter-in-place warning to the school. Reports of gunshots across the campus continued as the student body of about 50,000 students waited as long as four hours for an all-clear.

When the gunfire ended, police say three students had died, and another five were wounded and were hospitalized in critical condition. When officers finally caught up with McRae, he was dying of a self-inflicted gunshot wound. Police tracked him down near a home owned by his father in nearby Lansing, acting on a tip, according to MLive.com.

MSU police officials said that McRae began his shooting rampage near Berkey Hall on the north side of campus, where two students were found dead, and several others were injured. Soon after, reports came in of shots fired at the school's Student Union, a campus center where students congregate and is open daily until midnight. One other student was found dead there.

Campus police officials issued a secure-in-place order at about 8:30 as they continued to search for the gunman. By 10 p.m., police confirmed that an active shooter was on the campus, and MSU activities were ordered canceled for the next 48 hours. At about 12:20 a.m. Tuesday (Feb. 14), officials confirmed that the shooter was located and was dead. The secure-in-place order was lifted soon after, and the assailant was identified as McRae. He has no known association with the university.

A note in his pocket also threatened two schools in his hometown of Ewing, N.J., but was determined not to be a credible threat; however, schools there were closed for the day as a precaution, according to a statement from the superintendent.

At an early Tuesday press conference, Chris Rozman, deputy chief of campus police, said they are piecing together what would have triggered McRae into executing a mass shooting.

"We have absolutely no idea what the motive was," said Rozman. "There are still crime scenes that are being processed, and we still are in the process of putting together the pieces to try to understand what happened."

Michigan Department of Corrections records show that McRae was sentenced to 18 months probation after pleading guilty to a firearms possession charge from 2019. The probation period ended in May 2021. 

At a press conference, also Tuesday, Michigan Gov. Gretchen Whitmer called what happened a 'uniquely American problem" and noted that Tuesday is the fifth anniversary of the mass shooting in Parkland, Fla., in which 17 people at Marjory Stoneman Douglas High School were killed, as well as several more recent similar incident.
"Looking back at a year marked by shootings at grocery stores, parades and so many more ordinary, everyday situations," she said. "We cannot keep living like this."
While police do not know what may have caused McRae's shooting spree, his family members are also bewildered. "This just don't seem real, that he would be able to do anything like this," his brother Michael McRae, who lives in Delaware, told the Detroit Free Press. "I am still trying to process this whole thing."
The last time the two brothers spoke, according to the Free Press, was at their mother's funeral two years ago, and their interaction "wasn't good."
"He stayed to himself," said McRae, who found out what happened through their father. "He kind of secluded himself. Definitely a loner."