Big Freedia On New Show, The Viral Moment With Slim Thug And Pronouns
'Big Freedia Means Business' premieres on Fuse tonight (6/7).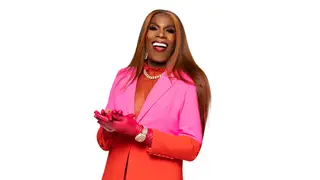 Big Freedia is a true trailblazer who has brought New Orleans bounce music to the forefront, championed LGBTQ+ representation, and preserved cultural traditions. Now with Big Freedia Means Business on Fuse, premiering at 9PM ET tonight, the Queen of Bounce is taking her talent to the next level. She is spearheading several businesses, including Hotel Freedia, a hotel in the heart of New Orleans. The hotel will be located at 2114 Decatur Street, a two-story, 4,800-square-foot building in the historic Marigny neighborhood in New Orleans. According to Eater, the venue will also feature a 60-seat restaurant and a music venue.
In an interview with BET.com, Freedia talks about the show, and reflects on the first season of College Hill: Celebrity Edition – including the touching conversation with rapper Slim Thug – and the discussions around pronouns in queer communities.
BET: What can your fans expect from Big Freedia Means Business?
It's a new show coming back on Fuse and WOW Presents Plus. It's a new show chronicling my life, my music and all of my business ventures that I have going on like Hotel Freedia, a new hotel I'm opening here in New Orleans. It also will feature my new eyeglass line, cannabis line and record label – all of the great things happening in Big Freedia's world.
BET: You are a bounce superstar, but was this your beginning vision to be an entrepreneur?
For me, the music was first and foremost. The music allows me to be able to step into all of these different avenues and expand the brand and to do something new and fresh. This is an opportunity for me to teach different people about business skills. New entrepreneurs out there who may be struggling with business or want to start a business, it gives me an opportunity to give young people inspiration to be their own business owner and not have a boss.
BET: Cannabis is a booming industry. How did you get involved with the cannabis industry?
A company reached out to me about two years ago. One of the people who's the CEO of the company is from New Orleans. He contacted me, wanting to work with me in the cannabis world. Two years in the making, we finally made it happen. The Royal Bud company is up and running. We are coming out with new items in the cannabis line. We are smoking over here! [Laughs]
BET: Season two of College Hill: Celebrity Edition is airing now and you were on season one. You famously had a viral discussion with Slim Thug talking about pronouns. As we are in LGBTQ Pride Month, can you talk about that powerful moment and the impact you've seen from that discussion?
It was a very powerful moment. It was unexpected, it wasn't anything that was planned. For Slim Thug to come and be real in that moment, I just gave him the real. I gave him the Freedia that everybody knows. For me, just keeping it real with the moment right there and to allow people to know that when you're confident in who you are, you don't have to worry about pronouns and all of that. We're getting so caught up with the pronoun situation nowadays. If you respect people and their boundaries, you can kind of know where to go with certain people when you're looking at pronouns and things in the LGBTQ community.
BET: Is there a Slim Thug, Big Freedia collaboration anytime in the near future?
Maybe so! That's possible, for sure.
BET: Have you heard from Stacey Dash at all? She famously left the show.
I have not – she literally dashed! [Laughs]
Big Freedia Means Business on Fuse premieres tonight (June 7) at 9PM ET on Fuse and Fuse+.