Kanye West Doesn't Want Or Co-Signs Your NFT
"Do not ask me to do a f*****g NFT," he says.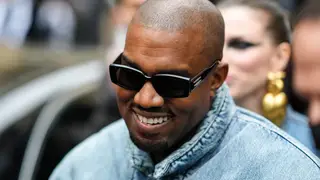 Ye casually interrupts his iPhone hiatus and work on Donda 2 to send a direct PSA to everyone on his Instagram about his stance on non-fungible tokens.

"My focus is on building real products in the real world," he wrote in a Sharpie-addressed Instagram post. The Chicago-bred billionaire posted the handwritten note to disparage anyone expecting to see him produce Yeezy NFTs anytime soon. "Real world real food real shelter[.] Do not ask me to do a f*****g NFT. Ye ask me later."

While Ye didn't totally negate the option of joining the NFT industry, which already has Lil Baby, Lil Yachty, and collaborators such as Eminem as participants in the NFT world — the focus seems to be only on the sequel to his Grammy-nominated album Donda.
"STOP ASKING ME TO DO NFT's I'M NOT FINNA CO-SIGN," he continued in the caption. "FOR NOW I'M NOT ON THAT WAVE I MAKE MUSIC AND PRODUCTS IN THE REAL WORLD."
"If it cannot be played at a funeral, childbirth, graduation, [or] a wedding, it will not be on our record," he said. "We learned a lot from DONDA 1. We learned what hit. We learned what was sticking. So we took [it] from there. It has to be able to be played at four major moments in people's lives."