Warriors Part-Owner Mark Stevens Called Out By LeBron And Banned From Finals Over Kyle Lowry Shove
"What if [Kyle Lowry] would have reacted and put his hands back on him. You guys would be going CRAZY!!"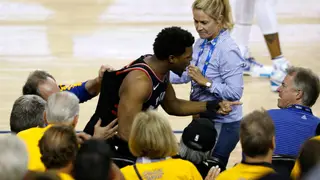 During Game 3 of the NBA Finals at the Oracle Arena, a Golden State Warriors fan was ejected from the game after shoving Toronto Raptors point guard Kyle Lowry during a courtside fall out-of-bounds. When the fan was identified as a minority owner for the Warriors, LeBron James spoke out on social media about the incident.
The shove occurred in the second half when Lowry leaped after a loose ball headed for the sideline. After running after the ball, Lowry accidentally landed on a small section of courtside ticket holders.
As Lowry tried to get up, a fan was seen giving the Toronto guard a hard shove on the shoulder.
At the top of the fourth quarter, the fan was ejected from the game

Then he was identified as none other than Mark Stevens, a venture capitalist and part owner of the Warriors

After the clip went viral and Stevens was identified, LeBron, who has remained relatively quiet during the finals, spoke out against the owner on Instagram

In a statement, the Warriors announced Stevens was banned from attending the rest of the NBA Finals

According to sportswriter Arash Madani, Stevens, who is a billionaire investor, plans to publicly apologize and make a donation to the Raptors' guard's Lowry Love Foundation.

There's no word on when that apology will take place.