The Cost of Love: 11 Women Whose Exes Came for All Their Money
MJB and Kendu Isaacs, J.Lo and Chris Judd and more.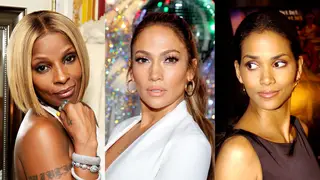 Breaking up is never an easy task, especially for those in the public eye. Particularly, alpha women who separate from their partners have a lot to consider in this situation, especially financially. From Sherri Shepherd and Lamar Sally to, more recently, Mary J. Blige and Kendu Isaacs, take a look at these high-powered women whose exes came for their heavy pocketbooks.
Apollo Nida and Phaedra Parks

Real Housewives of Atlanta star Phaedra Parks saw her marriage to her soon-to-be ex-husband, Apollo Nida, fall apart in front of the cameras. However, what she probably didn't see coming was him gunning for her pockets. According to reports, a currently incarcerated Nida has been caught committed credit card fraud from behind bars and he's going hard to secure some big bucks in his divorce settlement against his lawyer wife.

Madonna and Guy Ritchie

This one dates back to 2008. Pop music icon Madonna divorced her then husband of eight years, Guy Ritchie, citing irreconcilable differences. Though Ritchie received an estimated $76 million from their divorce settlement, a source close to him said it was never about the money for him. "He just wants out, he has had enough of the Madonna circus and he is massively relieved."

Mary J. Blige and Kendu Isaacs

The Queen of Hip-Hop Soul is currently involved in a nasty divorce battle with her husband of 12 years, Kendu Isaacs. According to MJB, Isaacs, who once also served as her longtime manager, is only making the proceedings a pain as he constantly makes demands he is "undeserving" of. She claims he believes he is entitled to a load of cash, but she begs to differ. "Why would he be entitled to something?" she said in an interview with Angie Martinez, "Because he's used to living the way he used to live? Why else would he think he's entitled to something? Because if you did what you did because you love me and you managed me because you love me and you rock with me as my husband because you love me, why should I have to pay you now?"

Halle Berry and Gabriel Aubry

Many thought Halle Berry and Gabriel Aubry made the picture-perfect couple while they were together, but once the couple announced their split in 2010, many were shocked. Fans grew even more surprised when learning in 2014 that a Superior Court ruled for the actress to pay the male model $16,000 a month in child support for their daughter, Nahla, in addition to a retroactive payment of $115,000 and a sum of $300,000 for his attorney fees.

Sherri Shepherd and Lamar Sally

Former talk show co-host Sherri Sherpherd made headlines in 2014 when she filed for divorce from her TV writer husband, Lamar Sally, after four years of marriage. Their divorce, however, was anything but smooth as, according to reports, the actress pays Sally $4,100 per month in child support for his son, who was conceived via surrogate, which Shepherd claims is not hers. Sally later requested that the amount she pays him be raised.

Kevin Federline and Britney Spears

Former backup dancer Kevin Federline was famously married to pop star Britney Spears from 2004 to 2007. After a nasty custody battle between the two over their two sons in 2006, Federline was granted sole custody. The singer was later granted visitation rights that increased over time. On top of this, Federline also receives $20,000 per month from Britney in child support.

Mel B and Jimmy Gulzar

Former Spice Girl Mel B was married to dancer Jimmy Gulzar from 1998 to 2000. After a rocky marriage, the singer filed for divorce from Gulzar in 2000, with it being finalized that same year. While she won custody of their child, she was ordered to pay an alimony settlement of $2.8 million to the Dutch dancer.

Terry McMillan and Jonathan Plummer

Novelist Terry McMillan notoriously married Jonathan Plummer back in 1998, but divorced him in 2005 after learning he was gay. It is rumored that she was ordered to pay him $50,000 in the divorce settlement. Not much of Plummer has been heard of since then.

Jennifer Lopez and Chris Judd

Jennifer Lopez has a few failed marriages under her belt, but it is her split with former back-up dancer Chris Judd in 2003 that hit her pockets the hardest. This being her second marriage, J.Lo was hit hard, being ordered to pay Judd $14 million in their divorce settlement after only nine months of marriage.

Janet Jackson and René Elizondo

Janet Jackson and music producer René Elizondo kept their nine-year marriage a secret for some time, but everyone learned of it following their pricey split in 1999. After the two divorced that year, he filed a multi-million-dollar lawsuit against the pop icon, reportedly estimated between $10-25 million. A settlement was not reached for another three years.

Brittney Griner and Glory Johnson

WNBA superstar Brittney Griner married fellow baller Glory Johnson in 2015, but their marriage was very short-lived as Griner filed for an annulment of the marriage the next day citing fraud and duress. This came on the heels of Johnson announcing she was pregnant with twins, who Griner said she had no connection to. In 2016, Griner reportedly agreed to pay Johnson $2,516 in child support and an additional $2,835 for nannies for the children. She will also pay back childcare expenses amounting to $8,505.