See The Major Fashion Deal These 2 Black Gay Dads Just Scored
The new modern family for an inclusive America.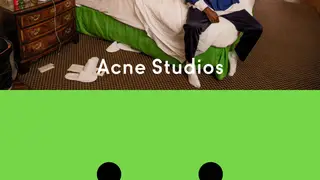 Acne Studios just introduced a new collection featuring Instagram's favorite dads Kordale and Kaleb!
Jonny Johansson, Acne's creative director, commented about the campaign, saying, "I have been thinking about families for a long time. Since Acne Studios started as a collective, we would see each other as a family back in the days. I therefore wanted to portray households of today, in all constellations — this is how we found Kordale and Kaleb. How does the face motif fit into all of this? Well it's just an ordinary Swedish citizen. Not too happy, not too sad, but somewhere in between. Lagom in Swedish. Like me."
Acne used their new campaign to depict how emoticons are able to transcend language. Acne celebrates the spirit of inclusivity in the new campaign dedicated to the face motif collection, which features Atlanta-based couple Kordale Lewis and Kaleb Anthony and their four children, Desmiray (10 years old), Maliyah (9), Kordale Jr. (8) and Kaleb Jr. (6 months).
Inez and Vinoodh photographed the family on location in New York City while the family was there on vacation. If for some reason you don't know these popular dads, Kordale and Kaleb first came to popular awareness as the result of a 2014 Instagram post when they photographed the start of a typical day in their household.
We commend Acne for this progressive campaign, which highlights a new normal and definition of family. Congratulations to Kordale and Kaleb's family for being selected as the face of this new campaign!
A limited edition, free publication designed by M/M (Paris) featuring an in-depth interview with Kordale and Kaleb will be available in select Acne Studios stores worldwide from mid-August and featured on Acne's website. The collection will be available for sale on August 17. Be sure to check it out!