Aaliyah Gayles: 3 Things To Know About The USC Women's Basketball Commit Who Was Shot Multiple Times
She was one of four people wounded at a house party in Las Vegas.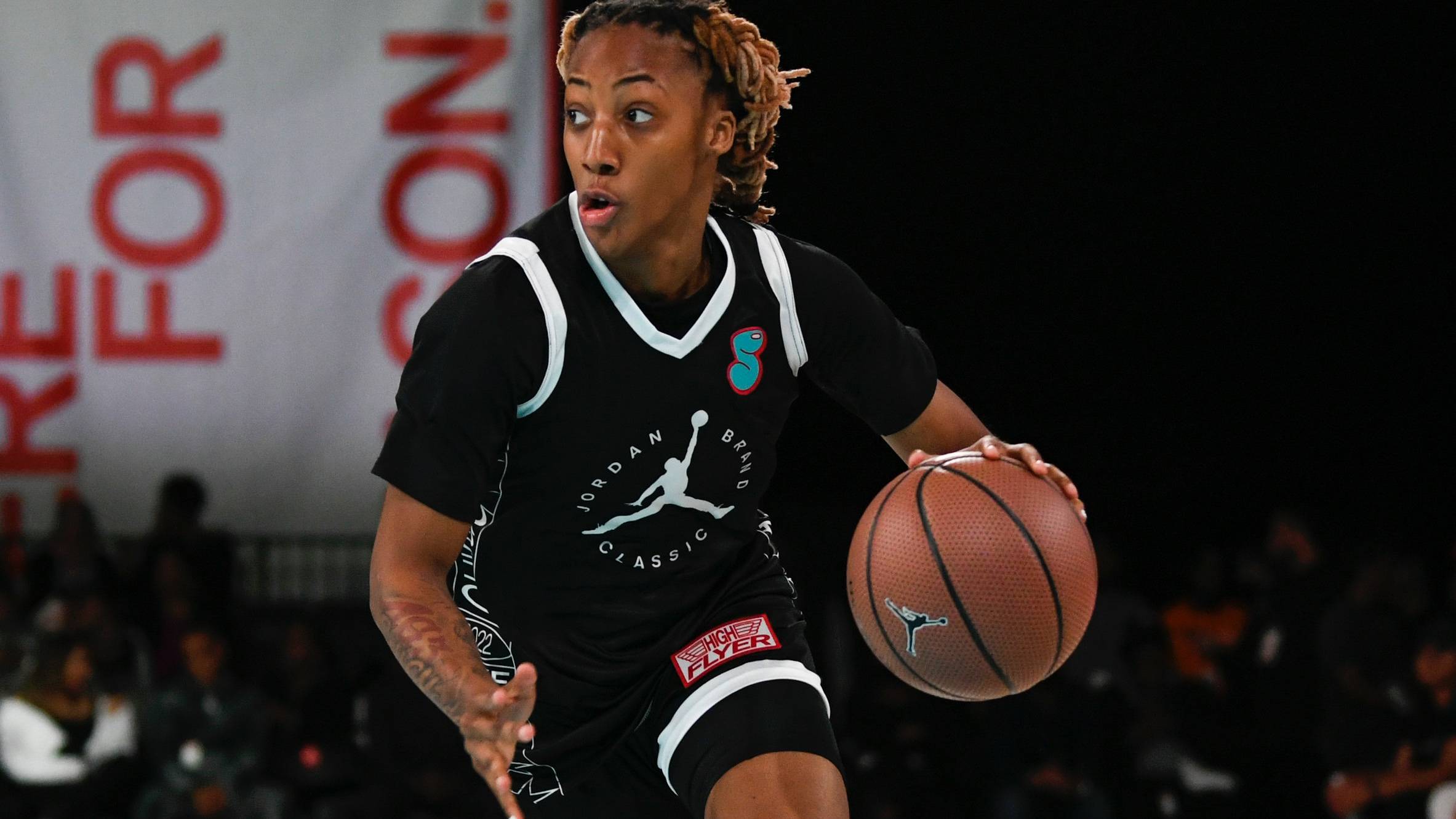 USC women's basketball commit Aaliyah Gayles was reportedly shot numerous times after a fight broke out at a Las Vegas house party.
According to ESPN, Gayles was one of four people wounded after a fight broke out at the party. The 18-year-old point guard, one of the top players in the country in the 2022 class, has had two emergency surgeries on Sunday (April 17) to address the injuries. The Las Vegas Review-Journal reports she is awake and recovering.
The Review-Journal reports that gunfire erupted at around 11:15 p.m. at the North Las Vegas house. Of the four victims in the shooting, which included two minors, only one was listed in "serious" condition after she suffered multiple gunshot wounds to her lower body. Police say Gayles' head and torso were not targeted in the incident.
As she strives to recover, here are three things to know about Aaliyah Gayles.
Gayles Is The No. 8-Ranked Recruit In ESPN's Class Of 2022

A 5-foot-9-inch point guard, the 18-year-old averaged 13.8 points, 4.9 rebounds, 3.5 steals and 3.3 assists this past high school basketball season and led Spring Valley High School in Las Vegas to the Class 5A state tournament. She was also a McDonald's All-American in the process, becoming the first Las Vegas Valley player to earn such honors in over a decade.

Originally, Gayles decommitted to the Pac 12 university amid a coaching change, but finalized a commitment to Southern California in August. "She is insanely humble; she doesn't enjoy the glitz and glamour and the limelight and all that stuff," her high school coach, Billy Hemberger, described to the Las Vegas Review Journal in January. "She handles her business and prides herself on knowing where her roots stem from. So if there was one word that I could use to define her, it is loyalty."

Gayles' Father Has Publicly Reacted To His Daughter's Shooting

On Sunday night (April 17), Aaliyah's dad, Dwight Gayles, tweeted about the shooting his daughter was involved in and even took responsibility as to why she was at the house party in the first place.

"I know there is some that will say it's my fault and I take full responsibility for it but please please keep my baby girl in your prayers Las Vegas," Gayles' father, Dwight, tweeted Sunday night. "I will give everyone that support Aaliyah an update but she's ok she go make it like always thank you all, true warrior."

No Arrests Have Been Made In The Shooting

According to a North Las Vegas Police Department press release (via the Daily Trojan), the suspect who fired the shots during the party is not in custody. They did note that Gayles did not suffer life-threatening injuries and had two emergency surgeries to help improve her condition.