Rep. Jamaal Bowman Pulls Fire Alarm in Office Building Ahead of Bill Vote
Several House Republicans are not convinced it was an accident.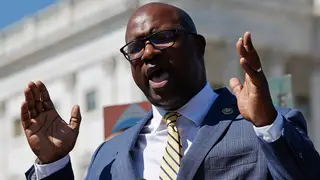 New York Rep. Jamaal Bowman pulled a fire alarm in the U.S. Capitol's Cannon House Office Building Saturday morning as the House of Representatives prepared to vote on a crucial government funding bill. The incident was caught in security footage.
Bowman, a Democrat, released a statement on X (formerly Twitter) late Saturday evening apologizing for the incident and insisting that he activated the alarm "thinking it would open the door."
"But I want to be very clear, this was not me, in any way, trying to delay any vote," the statement reads. "It was the exact opposite – I was trying urgently to get a vote, which I ultimately did and joined my colleagues in a bipartisan effort to keep our government open."
House Administration Committee Chairman and Republican Bryan Steil told CNN that he's unconvinced that Bowman made a mistake.
"We know Jamaal Bowman pulled the fire alarm," Steil said. "Why he did that, it is pretty unclear. His initial explanation, that it was an accident, doesn't seem to really pass muster."
House Speaker Kevin McCarthy, also a Republican, said in an interview that the House Ethics Committee should investigate the incident.
"This should not go without punishment," McCarthy said. "This is an embarrassment. You are elected to be a member of Congress. You pulled a fire alarm, in a (matter) of hours before the government being shut down, trying to dictate that the government would shut down?"
Congress passed the stopgap bill Saturday evening and President Joe Biden signed it into law before midnight, averting a looming government shutdown.