Rep. Jamaal Bowman Reacts To Rep. Marjorie Taylor Greene After She Claims To Feel 'Threatened' By Him
The far right-wing Republican's racist tropes put a target on his back, the New York Democrat says.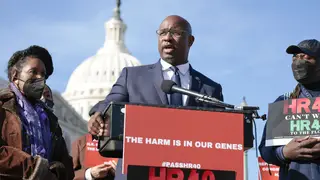 New York Democratic Rep. Jamaal Bowman on Thursday (May 18) denounced the "reckless" and "dangerous" comments of Rep. Marjorie Taylor Greene, a far-right Georgia Republican, saying that her remarks were "not just dog whistles" but "bullhorns" to Donald Trump's MAGA nation that placed a target on his back, pointing to the brutal 1955 lynching of Black teenager Emmett Till in Mississippi.
This exchange between Bowman and Greene started Wednesday evening (May 17) on the Capitol steps as a shouting match over Rep. George Santos, a New York Republican, who was recently indicted on federal charges for fraud and other corruption charges.
Bowman and fellow New York Democrat, Rep. Alexandria Ocasio-Cortez, were calling on Santos to resign while reporters tried to interview Santos, USA Today reported. That prompted a response from Greene that developed into a heated argument that was captured on video.
On Thursday morning (May 18), Greene held a press conference to introduce articles of impeachment against several government officials – unrelated to her encounter with Bowman. But in responding to a question about her argument with Bowman, Greene said she feels intimidated by him.
"Yelling, shouting, raising his voice. He has aggressive — his physical mannerisms are aggressive," she said, adding, "I think there's a lot of concern about Jamaal Bowman, and I am concerned about it. I feel threatened by him."
Greene also said Bowman cursed at her and called her a White supremacist.
"I will tell you what's on video is Jamaal Bowman shouting at the top of his lungs, cursing, calling me a horrible — calling me a White supremacist, which I take great offense to," she said. "That's like calling a person of color the n-word, which should never happen. Calling me a white supremacist is equal to that. That is wrong."
In his response, Bowman said demonizing Black men, characterizing them as a threat that must be addressed, is nothing new.
"Unfortunately, this country has a history of characterizing Black men who are outspoken, who stand their ground and who push back as being threatening or intimidating," he told reporters.
Bowman tweeted, "It's dangerous, but we must ALL continue to speak truth to power."