Quando Rondo Witnesses Friend Killed In Los Angeles Shooting
Shocking video of the aftermath has been released.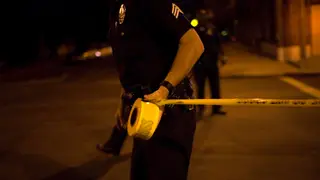 Rapper Quando Rondo was involved in a shooting in Los Angeles Friday (Aug. 19) that killed his friend Lul Pab.
Rondo was uninjured in the shooting, but his emotional pain was on full display in footage from local news stations KTTV and KABC. Rondo is seen distressed and screaming while walking away from the crime scene as officers pulled Lul Pab out of the black Cadillac Escalade in which they were traveling.
According to KABC, the Atlanta rapper and his entourage were at a local gas station when three men in a white vehicle pulled up alongside the Escalade and opened fire, striking Lul Pab. He was subsequently rushed to the hospital, where he was pronounced dead.
"We don't know why or how this happened, all we know is that the victim's vehicle, they pulled up, they were pumping gas and it looks like they probably finished pumping gas and the suspects approached from the alley, got out of the car and started shooting at those victims," Los Angeles Police Department Lt. John Radke told the news station.
"Quando was involved in a shooting yesterday evening [Friday] which resulted in the untimely death of another's young man's life; he himself didn't sustain any injuries during the shooting and is safe," reads a statement from Quando's team, according to HipHopDX.
KTTV reports that, as of Friday night, the shooter remains at large. No suspects have been identified by investigators.