Six Of The Wildest Moments From 'Tyler Perry's Sistas'
As 'Sistas' reaches its 100th episode milestone, take a look back at some of the wildest and juiciest moments that kept people hooked.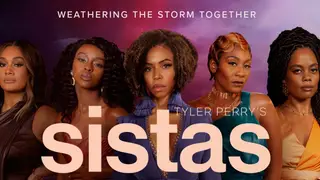 Watching girlfriends and their shenanigans play out on a sitcom is a favorite pop culture pastime. However, just when you think the concept is starting to get stale, here comes Tyler Perry with Sistas. Season one premiered on October 23, 2019, starring fresh faces KJ Smith (Andi), Mignon Von (Danni), Ebony Obsidian (Karen), and Novi Brown (Sabrina).
The show follows a group of good girlfriends in their 30s navigating the ups and downs of dating and life in general in Atlanta. It may sound simple, but this show takes viewers on a rollercoaster of events that range from a level one storyline to 1,000 in just a few scenes later. It moves quickly but we are keeping up. We're five seasons deep and rapidly approaching the 100th episode, which is a milestone worthy of acknowledgment. With that in mind, let's take a look at six of the wildest, juiciest moments from Sistas through the years.
Working in an airport has proven to be eventful for Danni. One of the most classic moments on the show is when Danni believes that a man is a human trafficker so she calls him out on it. He gets so nervous that he runs away from her but Danni catches him by torpedoing a shoe at his head. Her aim was impeccable and the force of her throw was enough to knock the man down so that airport police could catch up with him. It's the stuff of a gif collector's dreams.
Gary's Ambush Photoshoot-Wedding
There have been so many ridiculous moments between Andi and Gary that it's hard to pick just one. From Gary not telling Andi about his wife, or soon-to-be ex, or whatever that was (who tried to kill her) to his shady dealings causing the feds to sniff around Andi's job, their dealings with each other are always the most. Gary also choked Andi out and she still couldn't quit him. And just when we started to lose hope for Andi's common sense and sense of self-preservation, Gary thought it was a good idea to stage a photo shoot that was really intended to be a wedding. He had everyone get all dolled up and when they got there, there was an officiant and Gary was ready to go. Thankfully, Andi did not go along with the exchanging vows part. Gary tried to play it off like he was just playing, but we all knew what was up. Thankfully, Andi summoned an ounce of common sense for once.
Maurice vs. The Raging Homophobe
Maurice's adventures in love probably need a spinoff because his love life escapades often lead to more drama than any of his girlfriends ever could fathom. Who could forget that moment in season two, when he thought he was waiting for Prince Charming to arrive for a date, only for the man he had been talking to was a homophobic monster? When the man arrived, he severely beat Maurice and landed him in the hospital. However, Maurice healed and was able to seek revenge. He ran into the man once again coincidentally, but this time, he wasn't wearing a dress and heels like the previous time so he was more mobile and agile and returned the beat down.
Fatima worked in Andi's office but once Andi saw that she was a real one, she was comfortable enough to bring her around her girls. The only problem is, Fatima accidentally hit a man with her car which turned out to be Zac, who is Karan's on-again-off-again flame. Fatima didn't know this at the time, and Zac didn't know that Fatima worked with Andi but obviously, this is a recipe for turbulence. Once Zac and Fatima went public, friction with Karen ensued, but Zac and Fatima brought out the best in each other. Meanwhile, Karen was only focused on getting revenge on Zac for whatever wrong he did to her in the past. Karen and Fatima are still struggling to see eye to eye because Karen is a hater, but they are trying, and based on what has been happening this season thus far, they might have managed to make some progress.
Oh, you thought Zatima as a couple was the only drama? Nope. Karen announced that she was pregnant shortly after Zac decided he was going to get serious about Fatima. Karen swears it's his baby but her new man, Aaron, thinks it may be his. Karen, due to the lingering love she has for Zac, refuses to acknowledge that there is a possibility that the baby isn't Zac's. But they were all double dipping so you never know. For now, we wait until a proper DNA test can be obtained once the baby is born.
Maurice And Sabrina Are Locked Up
Maurice's love life got Sabrina caught up in the system. Basically, we all remember the dude Maurice dated that turned out to be a criminal, right? He only got close to Maurice so that he could rob the bank, which he did, while Maurice and Sabrina were there. He held a gun to them and everything. The situation got diffused by authorities, and that should have been the end of it but he was mysteriously able to get out of jail and had the nerve to pop back up at Maruice's house. Instead of having a backbone, Maurice allowed him to stay there, which obviously looked suspicious. That led the authorities to believe that Maurice and Sabrina were in on a conspiracy to commit bank robbery. We still have to see how that unfolds this season.
Follow the conversation and join us in celebrating the 100th episode on Twitter by using: #SistasOnBET