Black Police Officer Reportedly Fired After Punching Trump Supporter
Ashanti Smith maintains she was acting in self-defense.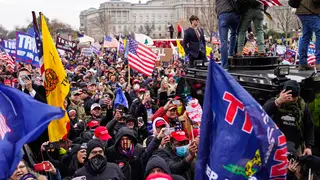 Ashanti Smith, an unarmed special police officer, has been fired after she says she was acting in self defense when she punched a Trump supporter.
According to her GoFundMe campaign to raise money for legal fees, the 28-year-old wrote she has been "relieved from my employment pending an investigation." She also stated the video that is circulating online makes her "look like I am the aggressor, but it does not show what happened prior to my defending myself."
The day before the insurrection at the Capitol on Jan. 6 that was incited by President Trump, Smith, who was unarmed, said she was on break from her downtown D.C. security job when the protesters questioned who she was with and why she was there, according to NBC Washington. It's not clear where in Washington, D.C. Smith was but this incident was separate from the riot at the Capitol. There have been on and off protests in the area from Trump supporters for weeks
Smith told NBC Washington, "They didn't have masks. They proceed to try to take my mask off of my face. I was on Instagram Live just to protect myself and also show everyone what was going on."
Smith also said after the incident, "Three gentlemen, they grabbed me, but at the time, one of them hit me and then they dragged me to the police line," 
Video subsequently shows a woman who was with the protester hit Smith on the back of her head. According to documents, police have since identified her as Anne Lorenz. She was charged with simple assault and assault on the officer. Smith was also charged with assault.

Smith maintains she feared for her life. 
Smith's GoFundMe campaign has raised over $166,000. If you would like to help with her legal fees, click here.