Shaquille O'Neal Shares Money Moves He Teaches His Children
"We ain't rich, I am rich."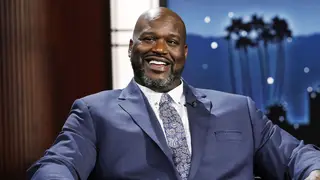 Shaquille O'Neal is one of the greatest NBA players to ever step foot on a basketball court. And while the salary and endorsements earned him a lot of capital, it's investments he's made post his playing career that has continued to build him wealth.
According to The Sports Rush, Shaq owns 17 Auntie Annie's Pretzels restaurants, 40 fitness centers, 150 car washes, Las Vegas nightclubs and much, much more. It's earned him a net worth of more than $400 million – money he says he doesn't want his kids to live off of without putting in their own work.
"My kids are older now. They kinda upset with me," he explained. "They're not really upset but they don't understand. I tell them all the time we ain't rich. I'm rich. No, you got to have bachelor's or masters and then if you want to invest in one of your companies, you would have to present it to me and I'll let you know. I'm not giving you nothing. The girls, I'll take care of the girls, but the boys, they're not getting nothing."
Furthermore, Shaq detailed how he's envisioning his children's financial future.
"Yeah, I do, but I try to let them figure it out," he said. "There's one rule: education. I don't care if you play basketball. I don't care about none of that. Listen, I got six kids. I would like a doctor, somebody to own a hedge fund, a pharmacist, a lawyer, someone that owns multiple businesses, someone to take over my business. But I tell them I'm not going to hand it to you. You gotta earn it."
During his NBA career, Shaquille O'Neal made 15 All-Star appearances, 14 All-NBA selections, 2 Scoring titles, won 4 NBA Championships, 3 Finals MVPs, 1 regular season MVP and scored 28,596 points.