Deion Sanders New Sunglasses Collab with Blenders Eyewear Racks Up Major Buzz
The shades will rep Sanders' Buffaloes team colors and retail at $67.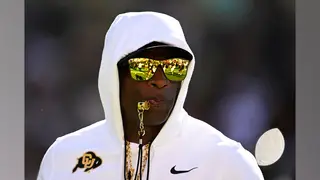 Deion Sanders is in his bag with a new collab that is racking up major buzz and dollar signs.
On Friday (September 15), Blenders Eyewear announced a brand-new partnership with the University of Colorado Buffaloes head coach, that is a nod to his unapologetic casual fashion choices on and off the field, as reported by WYFF. That same day, the line reportedly skyrocketed to over a million dollars in sales amid a feud between rival head coach Jay Norvell of the Colorado State Rams, as cited by Daily Mail.
On Wednesday, before the two teams were set for a duel on Saturday night, Norvell took a dig at Sanders' unique press conference attire.
"I sat down with ESPN today. And I don't care if they hear it in Boulder. I told them, 'I took my hat off, and I took my glasses off.' And I said, 'When I talk to grown-ups, I take my hat and my glasses off.' That's what my mother taught me," Norvell said. "They're not going to like us, no matter what we say or do. It doesn't matter. So, let's go up there and play."
Now, Norvell's criticism is being viewed as a seven-figure-winning recipe.
Sanders told his players at Friday's game, "They don't realize they just helped me with business." During that match, the game ended in double overtime, with the Buffaloes securing a win 35-43.
The shades retail for $67 and feature two gold and black designs inspired by the Buffaloes' team colors.
Blenders CEO and founder Chase Fisher told USA TODAY, "We have officially broke the internet today," on Friday. "The timing of that couldn't have been any better. That comment directed at sunglasses and then us releasing the (Sanders) collection today was peanut butter meets jelly. The timing was insane."